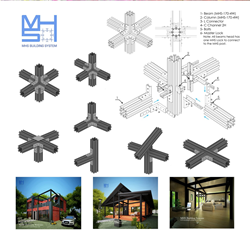 MHS Structural Aluminum Framing
IRVINE, Calif. (PRWEB) February 22, 2021
MHS Building Systems Group is pleased to announce that MHS Prefabricated Structural Aluminum Framing Technology has been technically modified and approved based on Los Angeles Building Codes 2020 and may be used in Seismic Design Categories A through F with the following seismic values:
Response Modification Coefficient: R =6.5
System Over Strength Factor: Ωo = 3
Deflection Amplification Factor: Cd = 4
This approval is subject to the following conditions:
1. Complete plans and calculations bearing the signature of a licensed civil or structural engineer, registered in the State of California and shall be submitted to the Structural Plan Check Section for review and approval.
2. The panel and frame assembly shall be installed in buildings of Type V construction only.
3. For exterior and applications, panels shall be separated from the building interior with ½" gypsum board or a thermal barrier complying with Section 2603.4 of the 2020 Los Angeles Building Code.
4. Exterior walls must be protected by a water-resistive barrier complying with Section 1404.2 of the 2020 Los Angeles Building Code and by wall coverings that provide the necessary structural resistance to wind and seismic forces in spanning between wall framing members.
5. The fire-resistive rating of the panels as building elements has not been reviewed and is outside the scope of this general approval.
6. The allowable loads are noted in attached tables. The allowable panel capacities shall not be increased for wind and seismic loads.
7. The fabrication of the panels shall be in a shop of a fabricator licensed by the City of Los Angeles Department of Building and Safety in accordance with the manufacturing standards submitted to the Department.
8. Connections of the panel to the building substrate shall be per the attached connection details. The location of the panel connections must be shown and detailed on construction plans reviewed and approved by the Department.
9. The panels shall be installed per the manufacturer published installation instructions. A copy of these instructions shall be available at the construction site.
10. The MHS framing member and connectors shall be labeled with the manufacturer name (MHS Building Systems Co.) and the Los Angeles Research Report number (LARR 25703) MHS Building Systems RE: MHS Structural Insulated Panel Frame Assemblies RR 25703
11. MHS Structural Insulated Panel Frame Assembly may be used in Seismic Design Categories A through F with the following seismic values:
Response Modification Coefficient: R =6.5
System Over strength Factor: Ωo = 3
Deflection Amplification Factor: Cd = 4
DISCUSSION
The Technical Modification is to add the response modification coefficient or "R" factor, system over strength factor, Ωo, and deflection amplification factor, Cd, for the MHS Structural Insulated Panel Frame Assembly based on testing reports in accordance with ICC Acceptance Criteria 130 and 154.
The report is in compliance with 2020 Los Angeles Building Code.
MHS-SIP FRAME ASSEMBLY
These structures are assembled on site, using our exclusive patented Modular Aluminum Extrusion and its interlocking connectors system, in conjunction with SIP (Structural Insulated Panel) or Flameproof Structural Insulated Panels (FSIP).
MHS Prefabricated Building Systems is easily mounted dismounted, moved location to location, from temporary to permanent creating quality sustainable buildings of any size from residential to multi-functional.
MHS Buildings are of superior quality to those constructed by conventional means. The easy to learn, teach, design and construct approach provides truly waste-free modular structures. Structure weigh only one third of I-beam steel structures and one fifteenth of concrete structures, resulting in reduced total building weight, energy and seismic loads thus saving time, space and resources.
The MHS Building Systems allows Modular Home Manufacturers, Building Developers, Builders, Contractors, Engineers, Designers, Architects and Students to build from Simple Studios, Mobile, Camping, Vacation Homes to highly Customized Housing and Commercial Structures up to 3-4 Stories.
Please visit http://www.modularhousingsystems.com for more information
MHS Building Systems, Structural Aluminum Framing designed, developed an Invented by Tim M Siahatgar, Architectural Engineer, located Irvine California.
© 2017-2021 MHS Building Systems -All Right Reserved