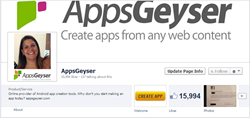 The moment a consumer needs to search for customer service is the moment a business will find that they lose custom
(PRWEB) April 21, 2016
Businesses around the globe are becoming more reliant upon social marketing to drive their success, and it was with this trend in mind that drove AppsGeyser to create and release their latest Android app template, the Social App. Marketing in the traditional sense began to die out around the early 2000's when the internet took over the world and consumers became savvier. However, no-one was prepared for the immense changes that were soon to be required due to the sudden influx of the mobile and social networks.
Mobile data has enabled the consumer to have constant access to information and businesses that are not available via this medium are finding themselves at a loss. Social networks allow businesses to market their brand for little, to no, financial cost. The AppsGeyser Social App template has been specially designed to bring together the most popular of social networks used for professional use; Facebook, Twitter and YouTube.
The Social App template is the perfect platform for businesses to connect, share and indulge in industry related conversations. The Social App template was designed to enhance the way the businesses engage and interact with their audience. Engagement is a strong requirement for companies wishing to gain loyal supporters and with the Social App template, businesses will be able to put their social activity directly on to the mobile device of all their audience members.
"Our customer service runs almost entirely via our Facebook page, however, on mobile I find it annoying having to search for the page," business owner Alex Manaf told us. "The Social App template allows my social pages to be immediately available without any search requirements."
"Businesses need to be socially active to succeed," explains Vasily Salomatov, AppsGeyser CEO. "The moment a consumer needs to search for customer service is the moment a business will find that they lose custom. This is why we have created the Social App template, to help bridge the communication gap between businesses and consumers."
About AppsGeyser
AppsGeyser, launched in February 2011, is now the biggest Free Android App Builder on the market. AppsGeyser's popularity has risen by enabling users to create apps with ease for Android devices from any web content in under five minutes. AppsGeyser has seen more than 2,888,000 apps created on its platform. There have been more than 1.319 billion installations of its apps.