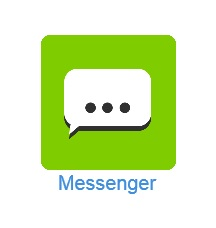 I love the messenger template, which I have customised with my company logo
(PRWEB) December 18, 2014
Instant messaging is big business and AppsGeyser has joined ranks with the big guns such as Whatsapp and Viber by adding a messenger app to their range of free app making templates. Android communication tools are a big hit amongst both the younger app making audience and business owners. The younger generation of app makers have been screaming for this template so they can create their own messenger services for their friendship circles, whilst businesses are busy creating an internal communication service available only for employees.
Android app templates are the easiest way to create apps from scratch without having to have technical abilities. The range of app templates have been growing year on in and in July of 2014 the messenger template first went for trial. During the trial period a range of tests were carried out and the template has now passed each test successfully and has been released for general use.
"I want to provide my employees with a free and easy way to communicate within the business" George Freida explained. "I love the messenger template, which I have customised with my company logo."
"We began toy with the idea of a messenger app at the beginning of 2014. The initial trial version went out for testing and was received with great enthusiasm." Said AppsGeyser Co-founder Vasily Salomatov, "The tweaking process took us a few months and we are very excited with the final result."
About AppsGeyser
AppsGeyser, launched in February 2011, is now the biggest Free Android App Builder on the market. AppsGeyser's popularity has risen by enabling users to create apps with ease for Android devices from any web content in under five minutes. AppsGeyser has seen more than 1,368,000 apps created on its platform. There have been more than 943 million downloads of its apps