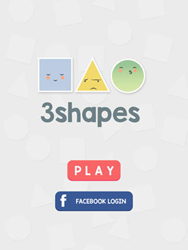 The best games in life, whether playing a board game, computer game or mobile game, are the ones that we can't wait to play again and again.
Cupertino, CA (PRWEB) May 06, 2016
Matching game fans who are bored of the same old routine, can now look forward to hour after hour of mind-bending fun – while they boost their creativity and concentration skills – by downloading the unique and delightfully addictive new game 3 Shapes. The game is available for both iOS and Android, and available at no cost.
Created by Jottry LLC, 3 Shapes is simple to understand, but tough to master. Users must join similar shapes (circles, squares, triangles) in order to create a closed loop, which clears them from the grid. Early levels are enjoyable and reasonably challenging, while higher levels oblige users to think ahead -- both because there are fewer similar shapes to connect, and because the grid shape itself changes. There are currently 90 unique levels to complete, with more on the way.
What's more, users can reach each level's target score in fewer moves – and therefore boost their own personal score – by trapping special shapes (which look like mini light bulbs) within their closed loop. They can also unleash ice, fire and stone icons to help them make it through levels.
Other 3 Shape special features include:

Unique stages to explore, including wacky green woods, dangerous sea waters and desert mania
Boosters including shuffle and erase
Sharp, colorful graphics and outstanding sound
Clear, easy-to-see counters below each game grid that show total moves, score, and target score (i.e. the score that must be achieved to get to the next level)
The ability to connect to Facebook and sync scores across devices
"The best games in life, whether playing a board game, computer game or mobile game, are the ones that we can't wait to play again and again," commented a spokesperson from Jottry LLC. "That's the vision we have for 3 Shapes, and based on the very positive feedback we've received for far from users around the world, we're definitely on the right track! It's fun, addictive, challenging, and a totally unique twist on old fashioned matching games!"
3 Shapes is available now for iOS devices from the App Store at https://itunes.apple.com/app/3-shapes/id960594258, and for Android devices from Google Play at https://play.google.com/store/apps/details?id=com.jottry.threeshapes.
Additional app information, including screenshots, is available at http://www.jottry.com/3shapes and https://www.facebook.com/play3shapes.
For all other information or media inquiries, contact Mark Johnson on behalf of Jottry LLC at +1 408 757 0156 or press (at)appshout(dot)com.
About Jottry LLC
Based in California, USA and founded in 2014, Jottry focus on game development for iOS and Android devices — with an emphasis on games that are fun & easy to play, but difficult to master.