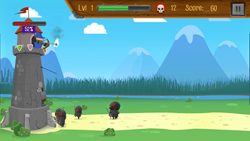 Cupertino, CA (PRWEB) July 18, 2016
Fans of tower defense games in search of a fresh and fun way to take their passion to a whole new level, can now head to the App Store or Google Play and grab A Lonely Tower.
Available at no cost and published by the creative minds at Zapporoo, A Lonely Tower is a welcome change from the predictable pattern of deploying towers in various locations, and attempting to keep enemies from conquering territory. Instead, users actually become the lone archer in the tower, and must defend it against waves of enemies.
And speaking of enemies: the bad guys in A Lonely Tower are chubby little creatures in black suits of armor who have one purpose in life: destroying towers. The good news is that thanks to their lack of fitness, they do take a bit of time to wobble up to the tower. The bad news is that they attack in waves, if they get close enough, they're pretty good at carrying out their destructive mission. Underestimating their skill or tenacity is a mistake.
To prevent that from happening, users must press and hold their device's screen to charge each shot, aim their flaming arrow, and fire away. The longer the charge, the farther the shot. Users who succeed in defending their tower make it to the next level. But those that fail in their quest have to start over
Along the way, users are treated to great original music and sound effects, along with exceptional graphics. Users can also pause their game, keep an eye on their score, and see both how much more damage their tower can withstand before falling to the enemy, and how close they are to getting to the next level.
"A Lonely Tower is a totally new way to enjoy classic defense tower games," commented Ron Medlin of Zapporoo. "It's a unique blend of strategy, tactics, reflexes and coordination. And most importantly, it's tons of fun! Users will never get bored because there's always a new, more challenging level ahead – and more enemies to fight off."
A Lonely Tower, the addictive new app that puts a fresh and fun twist on tower defense games, is available now for iPhone and iPad from the App Store at https://itunes.apple.com/app/a-lonely-tower/id1080900415, and for Android devices from Google Play at https://play.google.com/store/apps/details?id=com.lonelytower.lonelytower&hl=en. There is no cost to download the app.
For all other details, contact Zapporoo via https://zapporoo.com/contact.html.
About Zapporoo
Zapporoo is an iOS/Android mobile app developer with two U.S. based locations in Miami, FL and Atlanta, GA. Our unique 3-phase system of app creation has been designed to give our customers the easiest and most convenient manner to create, design and launch their app. Call us today or submit your app idea to see if Zapporoo can help you with your new app idea!