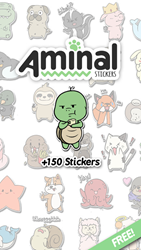 Cupertino, CA (PRWEB) May 11, 2017
People who want to easily make their iMessage chats more fun and memorable, can now head to the App Store and download the latest version of Ronnie Nguyen's globally-popular and loved app Aminal Stickers.
Available at no cost – Aminal Stickers – which is deliberately spelled "Aminal" instead of "Animal" for those who search for it – is an ever-growing pack of adorable, clever, cute and charming characters, including sloths, unicorns, walruses, koalas, foxes, otters, cats, corgis, narwhals, and the list goes on. There are currently 150 Aminals available, and some are animated.
What separates Aminal Stickers from typical iMessage sticker apps, is that the characters (or "Aminals" as they're called) are so utterly unique. These aren't generic pictures. They're richly detailed, highly stylized illustrations that have a delightful Studio Ghibli (Spirited Away, Princess Mononoke, My Neighbor Totoro, etc.) look and feel to them.
For example, there's a koala holding a light saber, a trio of penguins throwing dollar bills, a crown-wearing pig in a "talk to the hand" pose, a bumble bee drinking tapioca bubble tea, and so on. There's more than enough here to make any conversation more enjoyable, and put a smile on everyone's face.
Using the app is also faster and easier thanks to the latest update. People simply launch Aminal Stickers while having an iMessage conversation, swipe to find the character they want, and then either tap or drag it onto their post or photo. What's more, because Aminal Stickers is neatly embedded into iMessage, there's no app icon to take up space on the home screen.
"When I launched Aminal Stickers a few years ago, I had no idea that it would become so popular and loved around the world, and receive hundreds of 5-star ratings,"commented developer Ronnie Nguyen. "I'm already working on a new batch of stickers that I'll be adding to the app in the near future. The fun and unique Aminal Stickers universe is just getting started!"
The latest version of Aminal Stickers, which features 150 unforgettable characters to make chats more fun and memorable, is available from the App Store at https://itunes.apple.com/app/aminal-stickers/id1162014434. There is no cost to download the app.
For additional app information, including screenshots, follow the Aminal Stickers community on Facebook at https://www.facebook.com/aminalstickers.
For all other information or media inquiries, contact Mark Johnson on behalf of Ronnie Nguyen at +1 408 757 0156 or press (at)appshout(dot)com.
About Ronnie Nguyen
Ronnie Nguyen is a talented artist and designer based in San Fransisco, CA. With a philosophy to create artwork to make iMessage stickers more fun & exciting, Ronnie has entertained iOS users around the globe and his work has received hundreds of 5-star ratings and outstanding reviews.
View the full Press Release in the appshout! Newsroom at: http://appshout.d.pr/BFKB7