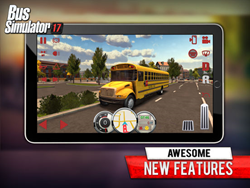 Cupertino, CA (PRWEB) May 11, 2017
A few years ago, Ovilex Soft launched its first bus driving simulator app and set a whole new benchmark for realism, detail and gameplay. Now, tens of millions of downloads later, the company -- which has nearly 700,000 Facebook fans around the world -- has managed to raise the standard yet again with the release of the astonishing Bus Simulator 17 for iOS and Android.
Like everything else that Ovilex Soft creates, Bus Simulator 2017 is beautiful to behold and exciting to experience. The ultra-realistic next-gen 3D graphics make most other driving simulator apps look feeble, and the attention to detail and respect for user experience is nothing short of obsessive. The sound effects are also a treat, such as a groan and hum of the engine, the hydraulic opening and closing of the passenger door, the click of the blinker, and the list goes on.
Users start by choosing from dozens of great buses, such as double-decker, school, articulated and more. From there, they climb behind the virtual wheel and head out on the open road to test their driving skills, or they can follow designated routes and pick-up/drop-off passengers. There's also a fun multi-player mode that features online rankings.
Additional Bus Simulator 17 special features include:

A variety of detailed city maps in various categories (central, suburban, industrial and countryside).
The option to leave the city behind and drive in the desert, mountain or highway.
Lifelike controls, including open/close door button, mirror positioning, responsive and tilt steering, gauges, GPS, turn signals, and more.
Customizable weather settings, including awesome new rain conditions.
An improved AI traffic simulator: other vehicles on the road use blinkers, brakes, realistic physics, and more.
Realistic visual damage due to collisions with vehicles, trees, other obstacles, etc.
Automatic or manual transmission, which uses an H-pattern gear box.
"After thousands of hours of developing and testing, we're proud to finally make Bus Simulator 17 available," commented Marusac Alexandru of Ovilex Soft. "We've kept all of the things that our users have told us they like, and added some new features and enhancements that we hope they'll enjoy, like the cool new rainy weather conditions and improved traffic AI".
Bus Simulator is available now for iOS devices from the App Store at https://itunes.apple.com/us/app/bus-simulator-17/id1199437519, and for Android Devices from Google Play at https://play.google.com/store/apps/details?id=com.ovilex.bussimulator17.
For all other information or media inquiries, contact Mark Johnson on behalf of Ovilex Soft at +1 408 757 0156 or press (at)appshout(dot)com.
About Ovilex Soft
Ovilex Soft is a new games company that focuses on making the best simulators on Google Play and the App Store. With a variety of planned future projects and continuous attention to quality control, the company will become an important developer within the simulator/racing game market.
Olivex Soft also helps ensure the quality of their products by keeping contact directly with their large audience of games players via the company's site forum at: http://www.ovilex.com/forum/
View the full Press Release in the appshout! Newsroom at: http://appshout.d.pr/z2hOx