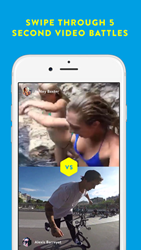 Cupertino, CA (PRWEB) September 19, 2015
Created by Red Bull Media House GmbH, Clashem™, a competitive mobile video app and online community, launches worldwide today for free on iOS and answers the burning question: "What happens when you throw a champion kickboxer into a cage match with a skateboarding cat?" The answer: Epic. Video. Battles.
Clashem urges anyone and everyone to get to the point and send their best works into battle. All Clashem videos are five seconds long. No need to wait passively for likes and views to add up, users know in an instant if their video is Rocky or road kill. The Clashem community judges videos without static from tiresome comment trolls. Users watch two fast side-by-side videos and pick a winner with a single swipe – left for the loser or right for the winner.
A fast and unpredictable way to create and view amazing videos, Clashem will have everyone discovering new talent, learning new things, and connecting with kindred spirits around the world. Athletics, stunts, feats, falls, laughs, the cute, disgustingly cute, and just plain disgusting; it's all on Clashem and ready for users to pass judgment. Battles last a maximum of five seconds, leaving users in control to command a dozen or more clashes per minute. Players can kill some videos while killing some time, whenever they have a few seconds to spare.
Active Clashem users view and judge videos, build their fan bases, and follow their favorite contributors. Instant notifications constantly provide stat updates; big wins can be shared on other social media platforms in a single click and everyones five seconds of fame begins and ends on the Clashem Leaderboard.
During Clashem's Summer 2015 beta period, more than 950 videos were uploaded with more than 56,500 battles played. Notable Clashers include professional freerunner Jason Paul, model and athlete Ashley Baxter, and professional juggler Josh Horton. Now that Clashem is available to the public, anything and everything is possible.
Clashem Highlights:
> Battlefield: Videos in constant, head-to-head combat
> Leaderboard: Real-time battle statistics and top rankings in all categories
> Notifications: Milestones and victories, constantly updated
> Uploader: One click from the iOS camera roll
> Editor: Easily search videos for the perfect five seconds and edit within the app
> Battle stats: One-click shares on Facebook, Twitter and Instagram
For press images and assets, please access: https://www.dropbox.com/sh/u9n6etcwbf2he1a/AABJdOCq5Ma8gQvb2U1pc3cIa?dl=0
Clashem – Video Battles is available now in the App Store at: https://itunes.apple.com/app/id1021197025
Join the Clashem community on Twitter, Facebook and Instagram:@Clashem
About Red Bull Media House GmbH
Red Bull Media House GmbH is an international media company, which produces, publishes and distributes print, audiovisual and multimedia material from the World of Red Bull in fields of sports, culture, life style and premium entertainment.
Red Bull GmbH and Red Bull Media House GmbH are members of the Austrian Chamber of Commerce. The responsible regulatory authority also for the license for Red Bull TV is the Kommunikationsbehörde Austria bei der Rundfunk- und Telekomregulierungs-GmbH. Laws applicable are among others the Österreichische Gewerbeordnung (Austrian Trade Act) and the AMD-G (Austrian Audio-Visual Mediaservice Act).
Media Contact: Jen Belongia-Barak; Jennifer(dot)belongia-barak(at)at(dot)redbullmediahouse(dot)com