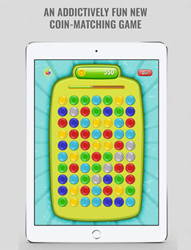 Cupertino, CA (PRWEB) August 07, 2015
Puzzle-gaming gurus looking for their next big challenge -- and the chance to win big prizes including a $50 Starbucks Gift Card -- should head over to the App Store, and download the addictively fun new no-cost coin matching game Coinnect from 2pensmedia Inc.
Coinnect's design is simple and straightforward, which means that instead of spending time watching tutorials or browsing through help screens, users can expect to start having fun and racking up points within seconds. Here's how it's played:
The game starts out with a 6x9 grid that is randomly filled with 6 differently-colored coins: grey, red, dark blue, light blue, green and yellow. Before the countdown timer reaches zero, users must try to clear as much of the grid as possible by swiping their finger across 3 or more adjacent coins that have the same color. Coins can be matched in a variety of ways, including horizontally, vertically, diagonally, or through a combination of directions.
Users can choose to play on their own – which is good news, because the app is ridiculously addictive and nearly impossible to put down. Or if they wish, users can put their coin-matching skills to the test by entering tournaments and competing against others to win big prizes, including a $50 Starbucks Gift Card. New prizes are added every month.
"Simply put, Coinnect is the app that wins!" commented Dimitrios Tragas of 2pensmedia Inc. "It's an awesome way for anyone to enjoy some fun and addictive puzzle action on their iPhone or iPad, and possibly win great prizes including gift cards!"
Coinnect is available now at no cost from the App Store: https://itunes.apple.com/app/coinnect-the-app-that-wins/id1012750638
Additional app information, including screenshots, is available at http://coinnectapp.net.
For all other details including media inquiries, contact Dimitrios Tragas on behalf of 2pensmedia Inc.at 866-522-4956 or support(at)2pensmedia(dot)com.
About 2pensmedia Inc.
Founded in 2009 2pensmedia Inc. is a Chicago based graphic design company that prides itself on customer satisfaction. We have over ten years of professional experience in the vast world of graphic design.
Unlike most companies we aren't only well versed in one craft of graphic design. Our skill sets are as diverse as web design to mobile application development. We are constantly striving to push the boundaries of technology and are always honing our craft.