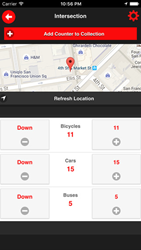 CountUp is ideal for government workers, field researchers, event managers, stadium and venue staff, hobbyists, enthusiasts, and anyone else who wants to mobilize teams quickly, start counting and collecting data, and generate instant results
Cupertino, CA (PRWEB) February 29, 2016
Individuals and teams who require powerful group tallying and data analysis can now benefit from extensive new features in the recent update to CountUp – The Connected Counter (a.k.a. CountUp) for iPhone and Android -- developed by Countup LLC, version 2 is now available via the App Store or Google Play.
Essentially, CountUp is an innovative cloud-based platform that lets individual users or teams count virtually anything -- from the number of attendees at a conference, to the number of cars using a road, the number of thunder claps during a storm, and the possibilities go on. Basically, if something can be counted, then CountUp has it covered.
Unlike hand-held clickers or conventional clicker apps, CountUp can be used by more than 1 user (a team) and tracks each count by user location, which is extremely important for accuracy, accountability and transparency. Users who need to count multiple things quickly can also create a "collection", which is a group of counters. They can also tell the app to email them when a pre-set threshold is met (e.g. 400 conference attendees, 25 white cars, etc.).
Furthermore, since all data is safely stored in the cloud, users can work offline and automatically sync later when they establish a wifi or data connection, as well as access their private profile from any device. Teams can also launch group counters and use them concurrently, and compare them in real-time.
And now in version 2, users can enjoy key new features that make an already impressive app even better, including the option to:

Track location of each count in a counter or a collection (i.e. a group of counters) via a map interface with a draggable marker for more accurate location tracking.
Use form fields (e.g. text boxes) in counters to rapidly collect data for surveys, inventory, etc.
Swipe on counters to open a quick menu to view data, add users to a team, change settings, and delete counters.
Export data (e.g. form fields, location, addresses) as a .CSV spreadsheet file for further analysis, and for creating graphs and charts.
Control which individual team members can access data.
"CountUp is ideal for government workers, field researchers, event managers, stadium and venue staff, hobbyists, enthusiasts, and anyone else who wants to mobilize teams quickly, start counting and collecting data, and generate instant results," commented Girish Chhugani of Countup LLC.
Version 2 of CountUp – The Connected Counter is available now from the App Store at https://itunes.apple.com/app/countup-connected-counter/id897384176, and from Google Play at https://play.google.com/store/apps/details?id=co.countup.project193747. The app can be downloaded at no cost.
Additional details, including screenshots and a visual quick start guide, is available at http://web.countup.co.
For all other app information or media inquiries, contact Mark Johnson on behalf of Countup LLC at +1 408 757 0156 or press(at)appshout(dot)com.
About Countup LLC
Countup LLC was founded by Girish Chhugani in April of 2014 and is based in New York City. As former CIO for NYC Office of The Mayor, Girish and his team were responsible for providing IT support for the Septemeber 11th Memorial Services every year. On the 10th anniversary of September 11th, the memorial park was opened to the victim's families for the first time, and City Hall needed a real-time tool to effectively manage more than 12,000 attendees trying to enter a 3000 capacity park at the same time from different entrances after the memorial services concluded. There was no tool available in the market to handle something like this and Girish created a crude version of Countup to manage this. The tool was extremely successful in managing the crowds and served as the inspiration for Countup.