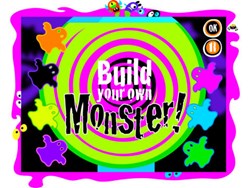 Cupertino, CA (PRWEB) November 01, 2013
Following the great success that Wee Kids family has achieved all over the world, Ebooks&kids is pleased to announce that Monsters Mixer is now available in the App Store.
Monsters Mixer is Ebooks&kids' Halloween creative app, for kids from 2 to 99 years old. There is no Halloween without monsters, but they don't necessarily need to be scary. In Monsters Mixer, there is no creep factor, only a lot of fun!
So the app can be useful for anyone who has kids afraid of monsters or of the dark and can help to quell their fears.
This app is a monsters builder where players can edit their own monster by choosing among plenty of different options. Mixing monstrous bodies, yucky eyes, snotty noses, disgusting mouths with teeth, antennas, awkward arms, clumsy legs in variable quantity and many other weird ingredients, children can create their own monstrous friend.
Then they can feed their monster with disgusting foods making him grow; play him funny tricks - i.e. splash a cake on his face; choose for him the scariest scream among the available options, or better, record themselves—the "...ROOAAR..." of their voice—and give it to their creature. Finally, kids can take a picture to their monstrous friend and even put their monster creations in their own pictures, for a terrific amount of additional fun! All the pictures can be uploaded on Monsters Mixer Facebook page, http://www.facebook.com/MonstersMixer, using #MonstersMixer hashtag. Colors are engaging, vivid and almost acid; all the body part options come in three different colors each. Music is suitably spooky and very catchy.
Monsters Mixer is available now in the App Store at http://www.appstore.com/monstersmixer, free for the launch for a limited period. A trailer of the app is available on Ebooks&kids' YouTube channel, here: http://youtu.be/wvAFkc3TaO0.
Monsters Mixer offers in-app purchases from a protected parent portal.
About Ebooks&kids
Ebooks&kids creates and produces animated, interactive applications, games and ebooks dedicated to all children aged 2 to 10, with playful-educational content in logical ability, observation, memory, as well as enhancing the mathematical knowledge, writing and reading skills. We believe that having fun for a child is the best way to learn, to develop and strengthen capabilities. Ebooks&kids builds its apps paying attention to the beauty of images and designs, to the variety and brightness of all colors and to the richness of peculiar sounds. This brings the kids to a playful and cheerful world: starting from what the kids enjoy, our apps capture their attention to widen their knowledge, stimulating their brain to produce and organize new information. Every day, Ebooks&kids' team constantly pays attention to every little detail to make sure that each game is educational but at the same time exciting and fun.
Because playing means learning!
All apps from Ebooks&Kids stand out for the high-quality content, innovative and fun games, colorful and detailed graphics. Each app is available in 10 languages: Chinese, English, French, German, Italian Japanese, Portuguese, Russian, Spanish, and Thai. The great success of Ebooks&Kids is witnessed by over 100,000 downloads on iOS devices all over the world and 88,000 "likes" on its Facebook page: http://www.facebook.com/Ebookskids. Ebooks&kids' apps are available for both Apple and Android-based devices. Ebooks&Kids' next release will be in few weeks a preschool app: "Preschool Adventures" created specifically for kids aged under 5.
Learn more at http://www.ebooks-kids.com.
Find us on Facebook: http://www.facebook.com/Ebookskids.
Follow us on Twitter: https://twitter.com/ebooks_kids (@ebooks_kids).
Ebooks&kids 2013. All Rights Reserved. Apple, the Apple logo, iPhone, iPod and iPad are registered trademarks of Apple Inc. in the U.S. and/or other countries.