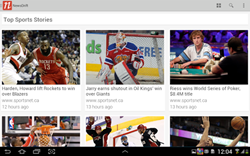 NewsDrift saves hours of time, and ensures that busy users don't miss anything of interest of value.
Cupertino, CA (PRWEB) May 08, 2014
Android users who want to easily, efficiently and enjoyably access all of their favorite local and international news sites, blogs and social networks – such as NBC, The New Yorker, Mashable, Forbes Business, CNET, Business Insider, and thousands of other possibilities -- can now head to Google Play, and download the innovative new no-cost app NewsDrift from Kocela Limited.
Meticulously designed with an exceptionally clean and intuitive ad-free interface that has none of the crowd, clutter and confusion of typical news aggregator apps, NewsDrift enables users to select the content that interests them in one of five categories, and displays summaries of suggested content two items at a time. Users simply tap an item of interest to read further or swipe to see new recommendations.
Plus, NewsDrift offers a powerful yet easy-to-use customizable newsfeed that lets users personalize their content engagement experience and adjust it to reflect their changing preferences. For example, users who are on vacation can focus more on lifestyle news, while those rooting their favorite team to a championship can focus more on sports news.
In addition, NewsDrift features an extremely handy offline reading features, which allows users to better manage their time by saving articles and reading them later on – whether that's in a few minutes, hours or days. This option is also particularly useful for users in planes, trains, busss and taxis who may have ample reading time at their disposal, but no available WiFi connection.
Rounding our NewsDrift's list of impressive features is its social media integration, which lets users to share articles and other content with their social networks via Twitter, Facebook and other platforms – and all without leaving the app.
"Trying to keep up with the latest news by running around to dozens of different news sites, blogs and social networks is extremely time consuming, tedious and for most people, simply an exercise in futility," commented Abel Masai of Kocela Limited. "And that's why NewsDrift is so unique and useful. It not only saves hours of time, but ensures that busy users don't miss anything of interest of value."
Added Mr. Masai: "We're particularly proud of the exceptional user experience that NewsDrift delivers. We spent hundreds of hours refining, optimizing and perfecting it so that users around the world would say to themselves: 'Wow, NewsDrift'."
NewsDrift, the innovative new no-cost app that lets Android users easily,efficiently and enjoyably access their favorite news sites, blogs and social networks in one place, is available now from Google Play at: https://play.google.com/store/apps/details?id=com.abello.news.
Additional app information, including screenshots, is available at: http://getnewsdrift.com/.
For all other information or media inquiries, contact Mark Johnson on behalf of Kocela Limited at +1 408 757 0156 or press (at)appshout(dot)com.
About Kocela Limited
We are a mobile and web solutions software company with a special focus on mobile products. Our mission is to use technology to better people's lives.