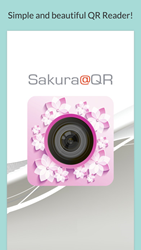 Cupertino, CA (PRWEB) October 03, 2017
Cloud NET, Inc. announced today that it has launched a new and improved version of its globally popular QR code and barcode reading app Sakura@QR. The app is available from the App Store at no cost, and works flawlessly on both iPhone and iPad.
Sakura@QR is suitable for users of all ages, and since launch has been extremely popular with female users in Japan due to it's cute design and soft color scheme.
What makes Sakura@QR stand out from other QR code and barcode readers is its remarkable simplicity and ease-of-use. Within seconds of installing the app, users easily and quickly start scanning various 1D and 2D barcode formats, including Uniform Product Code (UPC), QR Code, Code 39, Code 39 mod 43, Code 93, Code 128, EAN-13, EAN 8, PDF 417, and Aztec Code. There is no need to take a photo or press a button, as the app instantly recognizes and captures QR code or barcode.
If the QR code or barcode contains a URL, Sakura@QR automatically opens a user's preferred browser (e.g. Safari, Chrome or Opera). If the barcode only contains text, users immediately see it. Other data such as phone numbers, email address, contact information and so on toggles the appropriate tool or app.
Additional Sakura@QR special features include:

A beautiful color scheme and interface
One tap camera auto-focus
Pinch to zoom in/out
Open links from scanned history
Access email history as a .csv file
Customize vibration, sound and confirmation settings
The newest version of Sakura@QR enhances speed and upgrades the settings menu, for an even easier and more intuitive user experience.
"Users around the world have told us that they love how easy and fast Sakura@QR is to use, and that the elegant interface is a major improvement from other QR and barcode reader apps," commented Tsunehiro Shimazaki of Cloud NET, Inc. "The feedback we have received so far on the latest version is extremely positive!"
Sakura@QR is available from the App Store at https://itunes.apple.com/app/sakura-qr-free-qrcode-barcode-reader/id1116382831. There is no cost to download the app.
For all other information or media inquiries, contact Mark Johnson on behalf of Cloud NET, Inc. at +1 408 757 0156 or press (at)appshout(dot)com.
About Cloud NET, Inc.
Based in Tokyo, Japan, Cloud NET, Inc. are mobile app developers with a philosophy to create apps across a range of genres that are simple and a pleasure to use. Learn more at http://www.cloudnet.org.