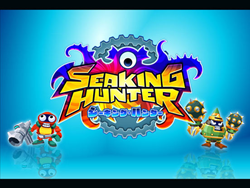 Cupertino, CA (PRWEB) May 16, 2017
Game Attack are proud to announce that Seaking Hunter for iOS has been selected to participate in 3 major indie game events. Seaking Hunter is an action game that evokes retro gameplay from the shoot 'em up era, coupled with ground-breaking animation and addictive gameplay.
Seaking Hunter is scheduled to appear at:
Tokyo Indie Game Festival, 14th May 2017
Indie Prize Asia (Singapore), 16th-18th May 2017
Bitsummit (Kyoto), 20th-21st May 2017
Game Attack's 4th release, the first prototype of the game was made for the Ludumdare 31# game jam — where feedback from other developers was very positive, ensuring the development for mobile was launched.
Inspired by a wide range of sources such as Jules Verne novels, retro sci-fi movies, mythology, old maps, kaiju movies and the steam punk universe; Seaking Hunter is a beautiful experience for game players of all ages and includes a feast of addictive gameplay and hand-crafted animation.
Seaking Hunter places players underwater, where they must use their reactions and skill to shoot the bosses and survive as long as possible. Each monster that is lurking in the deep seas of the earth have a unique backstory, attack pattern, location on the map and grants a reward when defeated.
The main character is shooting automatically at all time. The basic movements are controlled by tilting the mobile device and the main character can walk on the walls and ceiling. Taps allow the player to switch between the "walk mode" into the "swim mode". Once in swim mode, the main character can move freely and the tap is used to target enemies.
To assist players, the "Super Shot" gauge is charging at all time. Once it is charged, the user can press the super shot button to unleash a power attack. Each battle suit has a different Super Shot offering gamers a powerful weapon in their quest for survival.
For additional app information including screenshots, visit http://gameattack.simia-mimus.com/post/120023299749/seaking. A Video Demo showing Seaking Hunter in action can be viewed at: https://www.youtube.com/watch?v=82g_MFiGQdY
Seaking Hunter, the addictive new game with amazingly beautiful graphics, is available now for iOS in the App Store at: https://itunes.apple.com/app/id1182939479
For all other information or media inquiries, contact Mark Johnson on behalf of Game Attack at +1 408 757 0156 or press(at)appshout(dot)com.
About Game Attack
Located in Kyoto-city, Japan, Game Attack is a branch of Simia Mimus corp. founded in 2011.
View the full Press Release in the appshout! Newsroom at: http://appshout.d.pr/VClZl