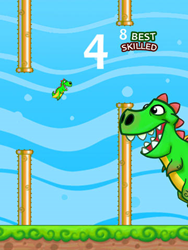 After launching Splashy Dino, the feedback we received from gamers around the world was incredibly positive, as people fell in love with the app right away
Cupertino, CA (PRWEB) May 31, 2014
Fans of Iceman Softworks Game Studios' wonderfully creative – and totally addictive – no-cost iPhone and iPad app Splashy Dino, can now head to the App Store and download the latest version 2.0.
Bearing some basic resemblance to Flappy Bird – except that it's not exceedingly difficult to play and the graphics are substantially better – Splashy Dino challenges gamers to tap their screen as often as necessary to flap a quaint cartoon dinosaur's wings, and help it fly safely past an endless array of pipes that stick out from above and below. Tapping takes the dinosaur up, no tapping sends the dinosaur down, and forward momentum happens on its own – which is one of the reasons why playing Splashy Dino is fun rather than frustrating.
And now in version 2.0, gamers can enjoy a range of new features including:

Big-screen action thanks to iPad compatibility
Improved gameplay due to optimized "flapping" experience
3 difficulty levels so that everyone can play and have fun: Rookie, Skilled and Expert
A full, original music score that adds wonder and excitement
Stunning cartoon-style graphics and animation
The option to share screenshots on Facebook
Cool achievements to earn and collect
Access to Splashy Dino's Game Center to compete against friends
"After launching Splashy Dino, the feedback we received from gamers around the world was incredibly positive, as people fell in love with the app right away," commented Alex Ledovskiy of Iceman Softworks Game Studios. "And now we're pleased to launch version 2.0, which features plenty of additions and enhancements."
Splashy Dino 2.0, the latest version of the super hit no-cost app featuring enhanced gameplay, new skill levels, social features and more, is available in the App Store at https://itunes.apple.com/app/splashy-dino/id824729265.
For further information or media inquiries, contact Mark Johnson on behalf of Iceman Softworks Game Studios at +1 408 757 0156 or press (at)appshout(dot)com.
About Iceman Softworks Game Studios
Led by brothers Alexander and Alexey Ledovskiy, Iceman Softworks Game Studios is an agile mobile game development firm that is dedicated to bringing joy to gamers across the world. The firm, which was founded in 2011, works in small teams comprised of talented cross-functioning individuals in order to leverage the benefits of spontaneity, creativity and speed, while ensuring world class quality."
Learn more at http://gamestudios.icemansoftworks.com/.