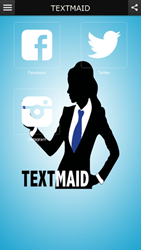 Cupertino, CA (PRWEB) September 19, 2016
In today's smartphone-centric world, staying in touch is as easy and fast as sending a text. Yet, despite this convenience, many people around the world fail to send important messages to colleagues, customers, family members, friends and associates because they were too busy – or because they simply forgot. Well, that unfortunate scenario can't happen anymore thanks to the unique, must-have new app TEXTMAID.
Developed by EMH Enterprises, TEXTMAID legitimately belongs in that special category of app that, once installed on a device, will have users asking themselves "how did I survive without this?"
Here's why: rather than trying to remember – but inevitably forgetting – to send a text communicating anything from "Happy Birthday!" to "Make sure you get the customer's shipment out by Friday at 3pm", users simply tell the aptly-named TEXTMAID to do it for them. Texts can be scheduled minutes, months or years into the future, and it's possible to send re-occurring texts as well.
In addition to ensuring that texts are always sent, TEXTMAID saves a surprising amount of time since users don't have to pause their busy lives to send certain texts throughout the day. Instead, they can create multiple customized texts when it's efficient and convenient for them to do so (e.g. before the workday starts, on the weekend, on a bus or train, etc.), and schedule them to be sent as desired. However, recipients get their texts as if it was written at that moment – even through it was actually prepared in the past.
"Since launching TEXTMAID, the feedback we've received has been unanimously positive, and people are blown away by how versatile it is," commented M. White of EMH Enterprises. "Parents can use it to remind their kids to do their chores, business owners can use it to remind employees to check inventory, friends can use it to remind each other about meet-ups, and the list of ways to use the app goes on and on. Simply put, TEXTMAID is the personal maid text service that everyone needs, and that everyone can afford!"
TEXTMAID, the new must-have app that lets users schedule customized texts to save time, reduce stress and prevent missed messages, is available now for iOS from the App Store at https://itunes.apple.com/app/apple-store/id1122415620, and for Android from Google Play at https://play.google.com/store/apps/details?id=com.appypie.appypie.
For all other information or media inquiries, contact Mark Johnson on behalf of EMH Enterprises at +1 408 757 0156 or press (at)appshout(dot)com.
About EMH Enterprises
Launched in 2014 and based in Virginia, EMH Enterprises LLC is a developing and innovative women-owned small business with aspirations to provide services that inform and inspire all generations, by creating conveniences in the daily lives of parents, teachers, business partners, etc. with innovative concepts and ideas combined with the latest technology.
The mobile app TEXTMAID is just the beginning of the company's creative journey into reliable, convenient products and services. EMH has future projects on the horizon with communities and special event planners that will sure to motivate and encourage so stay tuned to this rising star.