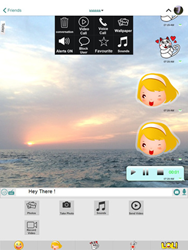 Cupertino, CA (PRWEB) September 04, 2015
Phone, iPad and Android device users who want to experience a new, better way to keep in touch with friends, family members or any other person or group in their network, can head over to the App Store or Google Play and download Zangoo Chat: the world's
best new way to talk, text, make video calls, and share media.
Developed by Zangoo Inc., Zangoo Chat features 4 key features that help people stay connected with their network whenever they wish, and wherever they are:
1. Instant Text Messaging: Users can send or receive an unlimited number of texts to their contacts or Zangoo Chat members who have made their profiles public. Plus, users can edit, modify and delete their delivered messages, and create groups to text chat with multiple friends.
2. Voice Calls: Users can make an unlimited number of voice calls to friends, and all at no cost. The call audio quality is crisp, clear and reliable.
3. Video Party: Users can launch a video party and enjoy face-to-face chat with up to 4 members at a time.
4. Media Sharing: Users can share photos, video, audio and other media with Zangoo contacts. They can also record video or take a photo within the app and send it to any Zangoo Chat contact.
In addition, users can instantly search for nearby Zangoo Chat users, and filter their search by age, gender and interests. They can also choose to make their profile private, or block other Zangoo Chat users.
Other Zangoo Chat features include:

A huge Sticker Gallery that includes roses, hearts, smiley faces, LOLs, and much more.
A variety of wallpapers to choose from, from sleek and cool to natural and serene.
The option to mark select contacts as a "Favorite".
The option to toggle real-time alerts on or off.
A contact list that automatically organizes friends by name.
Simple and easy menus with clear, large icons.
"Zangoo Chat is simply the best way for people to stay connected the world," commented Abrar Dawad of Zangoo Inc. "It's loaded with text, calling and video chat features, but it's also very simple to use."
Zangoo Chat, the new no-cost social networking app that is the best way to talk, text, video call and share media, is available now for iPhone and iPad from the App Store at https://itunes.apple.com/app/zangoo-well-texting-make-free/id988124965, and for Android devices from Google Play at https://play.google.com/store/apps/details?id=com.zangoo.zangoo.
Additional app information including screenshots is available at http://www.zangoo.org/s/.
For all other information or media inquiries, contact Mark Johnson on behalf of Zangoo Inc. at +1 408 757 0156 or press(at)appshout(dot)com.
About Zangoo Inc.
Founded in 2011 & based in Saudi Arabia, Zangoo focus on the development and update of applications for smartphones and desktop computers.
With a philosophy to be a leader in the mobile software development industry by providing unique, simple and enhanced communication services; Zangoo is already building a portfolio of innovative and effective apps.