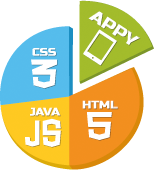 New York (PRWEB) September 19, 2014
Business Insider Australia Rates Appy Pie as a top App & Game Building Platform. Earlier this month Appy Pie was also listed as one of the Top 8 Powerful Tools for the Aspiring App Developer' by Yahoo.
Appy Pie a leading cloud based DIY app builder which allows people to develop beautiful applications within minutes and it requires no coding knowledge or previous experience of app development, With advanced features and support for latest mobile operating systems, the apps created using their platform are not only user friendly but also very economical.
With Appy Pies's App Generator, users can create beautiful and interactive apps for all major platforms, like Android, iOS, BlackBerry and Windows 8.
"We are absolutely delighted to be recognized by Business Insider Australia. This recognition indicates a link between innovation and long term commercial success. Business Insider, more so than any other publication has studied how well executed innovation leads to sustained and profitable growth among small companies," said Abhinav Girdhar, CEO at Appy Pie Inc.
About Appy Pie:
Appy Pie is Trademark of Appy Pie Inc, Appy Pie is the world's #1 Cloud based mobile apps builder software that allows everyone to create free mobile apps. Appy Pie is a mobile application development software that allows anyone with no technical knowledge to create advanced applications for mobiles and smartphones. Nothing to download or install, no programming required, just drag & drop.
To learn more about the services offered by the company just log on http://www.appypie.com/
About Business Insider Australia:
Business Insider Australia is the Australian edition of the world's fastest-growing business news website. Targeted at aspirational business leaders, Business Insider Australia features the latest technology, money and markets news, along with ideas to inspire executives and high-end lifestyle features. For more information please visit: http://www.businessinsider.com.au/