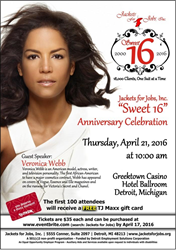 It is truly an honor to be able to celebrate 16 years of service to the citizens of Detroit" -- Alison Vaughn, CEO, Jackets for Jobs
DETROIT (PRWEB) April 15, 2016
Detroit native and social entrepreneur Alison Vaughn created Jackets for Jobs Inc. in 2000 as an effort to prepare low-income citizens of Detroit to thrive in the workforce. Next week, the award-winning non-profit organization will commemorate 16 years of service at the Jackets for Jobs "Sweet 16" Anniversary Celebration. The event takes place Thursday, April 21, 2016 at 10am at the Greektown Casino Hotel Ballroom in Detroit, MI.
"It is truly an honor to be able to celebrate 16 years of service to the citizens of Detroit," says Vaughn. "I am so proud that Jackets for Jobs Inc. has helped more than 18,000 metro Detroiters with proper etiquette and attire to prepare them for the workforce. I am forever grateful to all of our supporters for their clothing and monetary donations, and their precious gifts of time and expertise."
Vaughn invited another native Detroiter and world-renowned fashion supermodel & TV personality, Veronica Webb, to serve as the guest speaker for the celebration. Webb credits her conversations with Vaughn as the catalyst for an essay contest that Webb created to offer one lucky winner the opportunity of a lifetime. The winner of the contest will be awarded a web based e-commerce Rodan and Fields skincare consultantship and one year of personal mentorship from Webb and her team of skincare consultants. Participants of the 250 words or less contest must explain what it takes to be a successful entrepreneur and the significance of owning their own business. Essays are due to VeronicaWebbForDetroit(at)gmail.com by 11:59pm on April 15, 2016 to be considered. One winner will be announced at the 16th Annual Jackets for Jobs anniversary event. Winners must be present at the event.
"I can't think of a more fitting way for Jackets for Jobs to celebrate our 16th anniversary than by hearing from Veronica Webb, a woman who knows all about looking your best and understands the importance of first impressions," said Alison Vaughn. "The opportunity for one hard-working entrepreneur to fulfill their goals with Veronica's help is exactly what Jackets for Jobs is all about."
Jackets for Jobs Inc. opened their doors 16 years ago in Detroit MI. Since it's inception and partnership with supporting organization, TJ Maxx, Jackets for Jobs has been able to expand its current facility and open the doors to two more locations, one in Detroit and the other in Botswana, Africa. Vaughn was just recognized and awarded at this year's National Association for Women Business Owners conference with the Global Business Owners Award. Tickets for the "Sweet 16" Anniversary Celebration are $35 and can be purchased online at http://www.eventbrite.com (search: Jackets for Jobs). The first 100 attendees will receive a free TJ Maxx gift card upon arrival.
About Jackets for Jobs: Detroit-based Jackets for Jobs, Inc. is an award-winning 501c3 nonprofit that provides career skills training and clothing to job seekers with two locations in Detroit, and one in Botswana, Africa. Jackets for Jobs, Inc is recognized by ABC's The View, NBC's Today Show and NASDAQ as a worthy organization to support.