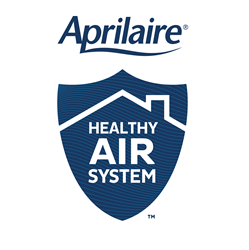 "Think of a fresh air ventilation system as your home's own set of lungs. It inhales fresh, outdoor air and exhales stagnant, polluted indoor air. Our Healthy Air System helps dilute and remove contaminants so you can breathe easy with fresh air ventilation, air filtration and humidity control."
MADISON, Wis. (PRWEB) October 28, 2020
Health, safety and the air we breathe is top of mind for most Americans and healthy living in a safe environment is at the pinnacle of consumer conversations. Homeowners nationwide are making investments in fresh air systems and products because everyone is home more, working virtually and distance learning. One new complete system, the Healthy Air System™ from Aprilaire, offers everything for the entire house. As a smart, all-in-one fresh air ventilation/air filtration/humidity control solution, Aprilaire's new whole house system introduces healthy, fresh air, helping to remove airborne dust, allergens, bacteria and viruses, and battling various health conditions like asthma while simultaneously maintaining the humidity level that helps prevent the proliferation of viruses.
Studies show that indoor air is five times more polluted than outside air. With homes being built tighter than ever, it's hard for homes to inhale good air and exhale bad air. Considering winter's approach, most Americans are increasingly worried about their home's indoor air quality. As healthy air solution providers for more than 70 years, Aprilaire is at the forefront of making the right critical recommendations to the public to best ensure healthy air in every home. Aprilaire's new Healthy Air System can remove up to 96% of virus-sized particles while reducing other even smaller contaminants from lingering in the home. The system also helps balance humidity at 50%, important because dry air supports virus growth and causes wood to splinter, while damp air is a hotbed for mold and causes wood to warp.
"Think of a fresh air ventilation system as your home's own set of lungs," said Dale Philippi, president of Aprilaire. "It inhales fresh, outdoor air and exhales stagnant, polluted indoor air. Aprilaire's Healthy Air System helps dilute and remove contaminants so you can breathe easy at home with a balanced structure of fresh air ventilation, air filtration and humidity control."
The fresh air ventilation from Aprilaire meets the requirements of both the International Residential Code and the International Energy Conservation Code. Paired with state-of-the-art MERV air filters, Aprilaire's system offers effective virus protection and year-round defense from allergens, mold spores, bacteria, viruses, pet dander, dust mites, smog and more. Uniquely positioned to best serve the healthy indoor air quality needs of people nationwide, Aprilaire is not only backed by nearly 70 years of success, but by a network of trusted installer consultants in lockstep with the company's laser focus on environmental and physical health and dedicated to using the highest quality materials and processes.
Aprilaire is based in Madison, Wis. All products are made in the USA and feature generous, five-year warranties. Aprilaire works within the guidelines of HVAC industry leaders at the American Society of Heating, Refrigerating and Air-Conditioning Engineers (ASHRAE) to help curb the spread of indoor airborne viruses as well as bacteria, VOCs and other contaminants.
"We have a responsibility to communicate the importance of healthy air in the home," said Philippi. "It's critical for homeowners to become educated about the science behind how a home's air system works so they can learn and adopt proven, best-practice healthy air solutions."
For more information, visit: https://www.aprilaire.com/aprilaire-healthy-air-system.
About Aprilaire
Aprilaire is on a mission to enhance people's health by improving the air in their homes. For nearly seven decades, Aprilaire has been creating and delivering the best solutions to manage air purity, humidity, temperature, and fresh air supply for homes in all types of environments. The company has an unparalleled reputation as the brand of choice among tens of thousands of professional contractors and the millions of homeowners who use their products every day. It's time to care about healthy air. To learn more about creating healthy air in your home and find a healthy air professional in your area, call 1-800-334-6011 or visit http://www.Aprilaire.com.