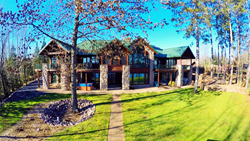 Green Bay, WI (PRWEB) April 05, 2016
Online real estate auction firm Micoley.com is preparing to host two spring events featuring properties for sale all over the United States. Property types run the gamut from residential to commercial to SFR investment, with commercial options including hotels, retail spaces, restaurant establishments, and more.
Among the properties for sale at this upcoming event is Lot 101491, AKA 818 A Wapogasset Lake Lane Amery, WI (zip: 54001). The 2,415 square-foot home was built in 1984 on 0.29 acres next to Lake Wapogasset. It features three bedrooms, three full bathrooms, an "amusement" room, three fireplaces, deck, enclosed porch, and a hot tub. Additional amenities include a three-car heated/insulated garage, boathouse, and second garage. It's an ideal home for the fishing/boating enthusiast, as Lake Wapogasset is stocked with largemouth bass, panfish, musky, walleye, and northern pike. List price is $365,000, with an opening bid of $275,000.
Other properties going up for auction during Micoley.com's spring event include Lot 101493, or 25357 Old 35 Webster, WI (zip: 54894). This three-bedroom home sits on 9.39 acres and was erected in 1986. It features two full bathrooms, main floor laundry, informal dining room, and more. The property is perfect for the professional or amateur mechanic, as it includes a two-car heated/insulated garage featuring a heavy-duty hoist. There's also a pole building and a second home on the property. List price is $203,900, with an opening bid of $187,500.
At 16320 Anderson Lane Mountain, WI (zip: 54149-9776), or Lot 101354, is a one of a kind custom Lakefront home up for auction on Maiden Lake-one of the top clearest Lakes in WI. With over 175' of beautiful sandy lake frontage, this home features 7,051 square-feet, six bedrooms, five and a half bathrooms, and a three-stall heated garage that includes an extra carport. Custom features include a sizable gourmet kitchen, hardwood floors, two stone fireplaces, and two large master suites with views of Maiden Lake. List price is $1,900,000, with an opening bid of $1,250,000. (You have to see these pictures!)
Sellers behind these and other properties up for auction at Micoley.com's springtime event note that they will review early bids and offers. Potential buyers are therefore encouraged to act quickly on properties of interest.
About Micoley.com:
Micoley.com was created to "transform the real estate industry," and functions in conjunction with W.M. Enterprises, Inc. President and CEO, Wade T. Micoley has served as a real estate industry leader for more than 30 years, and continues to provide marketing solutions to his wide range of clients.
"Today we serve the real estate community in both the banking and private sectors with customized, accelerated marketing programs," says W. Micoley. "Programs can be tailored for financial institutions, commercial and corporate clients as well as the individual property owner to help face our current and unpredictable economic environment. As a result of our aggressive marketing plan, Micoley has successfully assisted many clients across the United States."