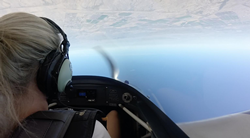 "UPRT saves lives, and it is our privilege to train an up and coming pilot with skills that can empower them to be the best pilot they can be and mitigate the risk of Loss of Control In-flight, the single greatest cause of aviation-related fatalities..."
MESA, Ariz. (PRWEB) February 12, 2021
Aviation Performance Solutions LLC (APS), the global leader in Upset Prevention & Recovery Training (UPRT), encourages current pilots in training or recent graduates to apply for the 2021 UPRT Scholarship. Each year, APS awards one Professional Pilot Upset Training Course, involving 3-days and 4 flights covering 5 missions, to a deserving pilot starting their professional aviation career. Pilots should apply by April 1, 2021. APPLY HERE.
The Professional Pilot Upset Training Course provides new and seasoned pilots with intense academic and on-aircraft training focused on mitigating the risk of Loss of Control In-flight (LOC-I), the number one cause of fatalities in all categories of civil aviation. The goal of training is always to prevent an upset situation from occurring in the first place, and research has shown that practicing recovery techniques not only gives pilots the often counter-intuitive skills necessary to recover should an upset develop, but also increases pilots' ability to recognize and prevent a developing situation before it becomes a problem. Additionally, UPRT rapidly develops general manual handling skills and improves overall pilot airmanship — giving new pilots a wealth of valuable experience in a fraction of the time.
"The annual APS scholarship program is dedicated to supporting the aviation industry as well as APS' purpose: We Help Pilots Bring Everyone Home Safely," said Paul Ransbury, President of APS. "UPRT saves lives, and it is our privilege to train an up and coming pilot with skills that can empower them to be the best pilot they can be and mitigate the risk of Loss of Control In-flight, the single greatest cause of aviation-related fatalities, to which new pilots can be particularly susceptible."
To be considered for the 2021 APS Upset Recovery Training Scholarship, a prospective recipient must be a current student or recent graduate of an Aviation College or University Aerospace program. The winner will be selected based on their overall GPA, flight ratings/certificates, flight experience, letters of recommendation and a personal essay. Applications for the APS Upset Training Scholarship will be accepted through April 1, 2019. To find out more and apply, please visit: http://www.apstraining.com/scholarship/
ABOUT AVIATION PERFORMANCE SOLUTIONS
Aviation Performance Solutions LLC (APS) trains thousands of professional pilots and instructors in comprehensive Upset Prevention and Recovery Training (UPRT) skill development each year. APS UPRT programs include integrated Loss of Control In-flight (LOC-I) solutions via industry-leading computer-based, virtual, on-aircraft (jet, turboprop, and piston), and advanced simulator UPRT. All training is in full compliance with the Airplane Upset Recovery Training Aids - Revisions 2 and 3, FAA Advisory Circular (AC) 120-109A Stall Prevention and Recovery Training, ICAO Manual on Aeroplane Upset Prevention and Recovery Training, IATA Guidance Material and Best Practices for the Implementation of UPRT, FAA AC 120-111 Upset Prevention and Recovery Training, and the APS-pioneered Every Pilot In Control Solution Standard™ (EPIC-S2™) for effective UPRT. Headquartered at the Phoenix-Mesa Gateway Airport in Mesa, Arizona, with additional training locations in the USA and Europe, APS provides immediate, turnkey global access to comprehensive UPRT solutions. apstraining.com