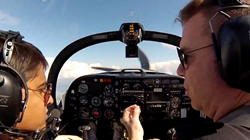 "The new EASA Advanced UPRT training is a step in the right direction for EASA, and APS is honored to have received official EASA approval for the Advanced UPRT course."
MESA, Ariz. (PRWEB) November 13, 2019
Aviation Performance Solutions LLC (APS), the global leader in Upset Prevention and Recovery Training (UPRT), announced today that the APS Upset Prevention and Recovery Training program has received official EASA approval, meeting and exceeding EASA requirements for the advanced UPRT course.
The APS Advanced UPRT program in Europe, with its joint venture partner, Test and Training Centre (TTC), together representing APS Europe, is EASA-approved and delivered via our Approved Training Organization (ATO) at the Breda International Airport (EHSE). APS Europe is located about an hour's drive south of Amsterdam and north of Brussels. Under the expert guidance of APS-certified UPRT instructors, APS Europe operates the proven Slingsby T67M200 Firefly for all its on-aircraft UPRT solutions.
In addition to complying with this latest EASA guidance and incorporating the best practices in the aviation industry, all APS Europe UPRT programs benefit from the synergy of several additional critical elements distilled from decades of APS expertise in UPRT delivery worldwide. Learn more about EASA UPRT: apstraining.com/easauprt
"The new EASA Advanced UPRT training is a step in the right direction for EASA, and APS is honored to have received official EASA approval for the Advanced UPRT course," said Paul 'BJ' Ransbury, APS's Chief Executive Officer. "Because the EASA guidelines leave significant latitude to Approved Training Organizations (ATOs), including the omission of aircraft training platform requirements, APS UPRT programs exceed these guidelines by adhering to proven best practices, including the Every Pilot In Control Solution Standard™, that substantially enhance the effectiveness, transferability and resilience of the training without needing to increase training time."
ABOUT AVIATION PERFORMANCE SOLUTIONS
Aviation Performance Solutions LLC (APS) trains thousands of professional pilots and instructors in comprehensive Upset Prevention and Recovery Training (UPRT) skill development. UPRT programs include integrated LOC-I solutions via industry-leading computer-based, on-aircraft (jet, turboprop, and piston), and full-flight simulator UPRT. All training is in full compliance with the Airplane Upset Recovery Training Aid, FAA AC 120-109A, ICAO Manual on Aeroplane Upset Prevention and Recovery Training, IATA Guidance Material and Best Practices for the Implementation of UPRT, and the FAA AC 120-111 on UPRT. Headquartered at the Phoenix-Mesa Gateway Airport in Mesa, Arizona, with additional training locations in the US and Europe, APS provides global access to the highest quality upset prevention and recovery training available. apstraining.com