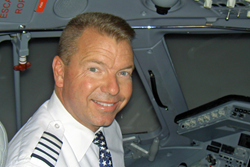 "Clarke's unparalleled dedication to excellence stems from a true passion for aviation and unrelenting commitment to the highest standards of safety. He lives the APS vision of helping pilots bring everyone home safely, every day."
ORLANDO, Fla. (PRWEB) October 18, 2018
Aviation Performance Solutions (APS), the global leader in Upset Prevention and Recovery Training (UPRT), is proud to announce that APS VP Flight Operations and Standards Capt. Clarke McNeace was awarded the 2018 NBAA Dr. Tony Kern Professionalism in Aviation Award at the NBAA-BACE convention in Orlando, Florida. The award recognizes individual aviation professionals who have demonstrated outstanding professionalism and leadership in support of aviation safety in the business aviation industry.
Clarke McNeace, also known by his Navy call sign, "Otter," is a veteran US Navy and former airline pilot with over 15,000 hours of flight time. He is also a four-time Master Certificated Flight Instructor with the Aerobatic distinction. Clarke is active in a number of industry safety and educational efforts, and he has been at the forefront of the industry in addressing the threat of Loss of Control In-flight (LOC-I), aviation's number one cause of fatalities. Read more on Clarke's background and his safety related efforts in the aviation industry: apstraining.com/mcneace/
"For over a decade, Clarke McNeace has devoted his full time efforts to improving aviation safety, and he serves as an influential safety leader both at APS and across the industry," says Paul BJ Ransbury, president of Aviation Performance Solutions. "Clarke's unparalleled dedication to excellence stems from a true passion for aviation and unrelenting commitment to the highest standards of safety. He lives the APS vision of helping pilots bring everyone home safely, every day."
ABOUT AVIATION PERFORMANCE SOLUTIONS
Aviation Performance Solutions LLC (APS), headquartered at the Phoenix-Mesa Gateway Airport in Mesa, Arizona, trains thousands of professional pilots and instructors in comprehensive Upset Prevention and Recovery Training skill development. APS provides integrated LOC-I solutions via industry-leading computer-based, on-aircraft (jet and piston), and full-flight simulator Upset Prevention & Recovery Training (UPRT). All training is in full compliance with the Airplane Upset Recovery Training Aid, FAA Advisory Circular 120-109A on Stall Training, ICAO Manual on Aeroplane Upset Prevention and Recovery Training, IATA Guidance Material and Best Practices for the Implementation of Upset Prevention and Recovery Training, and the FAA Advisory Circular 120-111 on Upset Prevention and Recovery Training. APS is the only Part 141 Flight School certified in the delivery of complete upset prevention & recovery, stall/spin and instrument upset recovery training courses worldwide. With additional training locations in Texas (USA), The Netherlands (Europe), and military division in Alabama (USA), APS provides global access to the highest quality Upset Prevention and Recovery Training available. Please visit our website at: apstraining.com