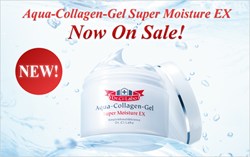 There's no need to use a bunch of different products – this moisturizing gel is the only one you'll need in your daily skincare routine.
(PRWEB) July 16, 2013
Dr. Ci:Labo, a premier skincare company that has sold over 25 million Aqua-Collagen-Gel products, is pleased to announce the launch of its latest innovative skincare product, Aqua-Collagen-Gel Super Moisture EX (ACGEX). This ultimate moisturizing gel is unique in that it contains all the benefits of six products in one: toner, emulsion, serum, cream, facial mask and makeup base. Instead of spending the time to apply all six of these products, customers can simply apply one application of the Aqua-Collagen-Gel Super Moisture EX after washing their face. For busy women around the world, this time-saving product allows all women with all skin types to get the best possible skin care for very little time and effort.
The Importance of Moisturizing
Opinion leaders in the field of dermatology say that moisturizing is one of the most important factors to keep skin looking young and flawless. The baby's skin is soft because the body contains 80% water on average. As the human body ages, the percentage of water in both skin and body decreases dramatically. Older teenagers' surface skin retains an average of 20 to 25% moisture, and it continually declines as a person gets older. At 60 years old the skin's moisture level is at 15%. Aligned with the moisture level, collagen and hyaluronic acid levels in the body also decrease. Thus, this creates wrinkles, sagging skin, dryness and other skin troubles that show the signs of aging. To restore the youthful quality of skin, it needs to be continually hydrated with a high amount of water so it can be moisturized all day long.
The Ultimate Moisturizing Gel
Aqua-Collagen-Gel Super Moisture EX is a gel-based moisturizer, the only texture to act in the same way as the natural moisturizing function of the skin – a gel membrane spreads across the surface of the skin as "sebaceous film" to trap moisture in, and ceramide and amino acid work as "intercorneocyte lipid" and "NMF (natural moisturizing factor)". A cocktail of 120 beauty ingredients such as hyaluronic acid, angelica, gingko and algae work simultaneously with the original nanotechnology based Collagen HC Nano Capsule, which promotes deeper, greater penetration. Also, it contains no fragrance, coloring or mineral oils and is paraben-free.
"We formulated the new Aqua-Collagen-Gel Super Moisture EX to be the perfect day/night moisturizer that will keep skin hydrated all day long," says Satoshi Arai, General Manager of Ci:Labo USA. "There's no need to use a bunch of different products – this moisturizing gel is the only one you'll need in your daily skincare routine."
To celebrate its new product launch, Dr.Ci:Labo has launched a new promotion. For a limited time only, customers who purchase the full-size Aqua-Collagen-Gel Super Moisture EX product ($107 for 120 g/4.23 oz) will receive a sample kit with six products and a gorgeous silver clutch worth the value of the full-size product itself. The gift includes:

Aqua-In-Derm DN Essence (pre moisturizing booster)
Two (2) sheets of Extreme Close Up Deep Brightening Mask (brightening & relaxing facial mask)
Perfect Timeless SP (anti-aging cream)
Aqua-Collagen-Gel Enrich-Lift EX (anti-aging multifunctional gel)
Aqua-Collagen-Gel Bihaku (brightening multifunctional gel)
The "travel size" of ACGEX (10g/0.35oz)
All in a sexy spangle clutch!
The clutch + sample gift is available to the first 1,000 purchasers only, now through September 30, 2013. Coupon code 7UTRQ must be entered at checkout.
The first 500 customers who purchase the mini-sized Aqua-Collagen-Gel Super Moisture EX product ($52 for 50 g/1.76 oz) will receive a bonus travel size ACGEX (must enter coupon code PFFQQ at checkout). Promotion ends Sept. 30, 2013.
About Dr. Ci:Labo
Pursuing his passion to feed the human need for youthful looking skin, Dr. Yoshinori Shirono founded the Shirono Clinic in 1995 in Tokyo, where he established his lead in Japan, specializing in dermatological laser surgery. His pioneering laser treatment clinic has attracted a huge number of patients and has been a great success in Japan and abroad.
However, Dr. Shirono was not able to find the perfect product to treat his patients after laser surgery. So in 1999, he set up the Dr. Ci:Labo Research Institute. After years of extensive research on clinical based data of 20,000 patients on restoring the skin's natural mechanism to retain moisture, the "Aqua-Collagen-Gel" was born and has been a runaway success with his patients. It has sold over 25 million jars worldwide to date. With unique ingredients that are carefully selected, this ultimate moisturizing gel delivers multifunctional benefits in one simple application. Thereafter, Dr.Ci:Labo has created other product line series to provide Brightening solutions, Anti-Acne care, Anti-aging care and other specialized products to cater to specific skin care needs. For more information or to order Dr. Ci:Labo breakthrough skin care products, please visit http://www.cilabousa.com.