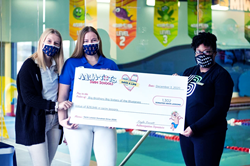 Everything we do is about creating life lessons for children, and some of the best life lessons are learned through generosity.
MESA, Ariz. (PRWEB) February 01, 2021
Aqua-Tots Swim Schools, the world's largest swim school franchise, is celebrating the donation of over 10,000 swim lessons, a value of $250,000, to families in need across the United States. Twenty franchise locations participated in this effort, allowing swim school families to gift lessons to selected charitable organizations.
"At Aqua-Tots, one of our core values is relationships over profits," said Jamie Cartledge, franchise owner of Aqua-Tots in Peoria and Surprise, Arizona. "Everything we do is about creating life lessons for children, and some of the best life lessons are learned through generosity. During the month of February, there is no better time to share the love of safe swimming with children in our communities."
The Swim Lesson Donation Drive, held in November and December of 2020, was an opportunity for families in participating schools to donate unused make-up lessons they had accrued throughout 2020. Others were given the opportunity to purchase lessons for donation. In total, 10,125 lessons were gifted.
"When we presented this opportunity to the families in our schools, we were overwhelmed with how they stepped up to serve children," said Lindsay Thayer, franchise owner of Aqua-Tots Lexington, Louisville, Dayton and Indianapolis. "Their willingness to donate swim lessons to families in need really shows the heart of the greater Aqua-Tots community. We've always been proud to be a part of this family, but today, we are prouder than ever."
Aqua-Tots Swim Schools has been the leader in the swim instruction industry since 1991, offering comprehensive swim curriculum for children as early as four months old. With locations in 14 countries, families all over the world experience the dedicated, year-round, indoor swim facilities where their children can become safe and confident swimmers by completing the proven Aqua-Tots curriculum.
Water safety remains as important as ever, even amidst the pandemic. According to Pediatrician Ben Hoffman, chair of the American Academy of Pediatrics (AAP) Council on Injury, Violence & Poison Prevention, "As children are at home more due to social isolation recommendations, they may have more access to pools, bathtubs, and other sources of water – all of which pose a drowning risk."
In fact, drowning is the leading cause of unintentional, injury-related death among children ages one to four years old, according to the Centers for Disease Control and Prevention, and swim lessons drastically improve this reality. Participation in formal swim lessons can reduce the risk of drowning by 88% among children in the same age group, according to the National Institutes of Health.
"2020 was a challenging year," said Aqua-Tots CEO Craig Wright. "Franchise owners all over the world were faced with the reality of temporarily closing their doors during the coronavirus pandemic. Because of their commitment to swim lessons and the value they place on families, all locations offered free make-up lessons to get children back on track when schools reopened. To see those same families pay it forward to children who may not be able to take swim lessons has been remarkable to witness."
Each participating franchise location chose charitable organizations as the recipients of the donated swim lessons. Those organizations will in turn select deserving families to take part in the classes at their local Aqua-Tots Swim Schools. The organizations include but are not limited to: Big Brothers Big Sisters, Child Savings Institute, Community Alliance Against Family Abuse, Children's Home Society of Idaho, Families in Transition of West Georgia, WIC, Arrow Child & Family Ministries, America's Angels, Inc, Foster Adopt Connect, Creighton Community Foundation, Arizona Department of Child Support Services, Adelante Healthcare, and Dystart Community Center.
Aqua-Tots Swim Schools is committed to keeping families safe and healthy while at swim lessons, and they have implemented the Aqua-Tots Full Circle of Safety to prevent the spread of COVID-19 in their facilities. Preventative measures include enhanced cleaning procedures, face shields for swim instructors, masks for swim school staff and social distancing measures in the lobby.
A properly maintained and sanitized pool is also considered a safe environment for children and families. According to the CDC, they are "not aware of any scientific reports of the virus that causes COVID-19 spreading to people through the water in pools, hot tubs, or water playgrounds. Plus, proper operation of public pools, hot tubs, and water playgrounds (such as at an apartment complex or owned by a community) and disinfection of the water (with chlorine or bromine) should inactivate the virus." The Aqua-Tots pool contains a commercial sanitation and filtration system which maintains the proper chlorinated levels.
About Aqua-Tots Swim Schools
Aqua-Tots Swim Schools serves over 115 communities worldwide, offering dedicated, year-round, indoor swim instruction, community outreach and drowning prevention education to children of all abilities from four months to 12 years old. As the world's largest swim school franchise, their hand-selected instructors are passionate about teaching children how to remain safer in and around the water, using tried and true curriculum, 30 years in the making and trusted worldwide to teach 2.9 million swim lessons annually. To learn more, visit http://www.aqua-tots.com.