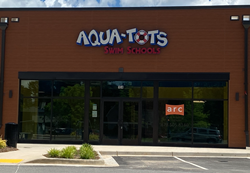 "This year's pandemic has caused many parents to work from home. Children are also at home, and they are bored. This has resulted in an increased rate of drowning all over the country." Franchise Owner Jesse Rhodenbaugh
MESA, Ariz. (PRWEB) August 20, 2020
Aqua-Tots Swim Schools has announced the opening of its 113th worldwide franchise location in Atlanta's upper westside. Located in the shopping area of Westside Village at Moores Mill, along Marietta Boulevard and Coronet Way, Aqua-Tots Westside Village is now serving families in West Atlanta, Midtown and Buckhead. They officially opened their doors on Monday, August 17, 2020.
Aqua-Tots Swim Schools has been the leader in the swim instruction industry since 1991, offering comprehensive swim curriculum for children as early as four months old. With over 100 locations in 14 countries, families all over the world experience the dedicated, year-round, indoor swim facilities where their children can become safe and confident swimmers by completing the proven Aqua-Tots curriculum.
The 4,500 sq. foot swim school is the sixth Aqua-Tots location in Georgia and fourth Atlanta area location for Franchise Owners Andrew George, Jesse Rhodenbaugh and Tommy Fisher, who also own locations in Alpharetta, Briarcliff and Roswell, Georgia.
"We're excited to serve the families of West Atlanta, Midtown and Buckhead," said Franchise Owner Jesse Rhodenbaugh. "This year's pandemic has caused many parents to work from home. Children are also at home, and they are bored. This has resulted in an increased rate of drowning all over the country. In fact, 69% of children who drown are not expected to be in or near a pool at the time of an incident. We are very proud to offer families in Atlanta a year-round place to equip their children with the water safety skills they need for a lifetime."
According to the National Institutes of Health, "Consistency in formal swim lessons reduces the risk of drowning by 88% among children ages one to four years old." That's an encouraging reality since the Centers for Disease Control and Prevention reports that drowning is the leading cause of unintentional, injury-related death among children ages one to four.
Aqua-Tots Westside Village is committed to keeping families safe, healthy and comfortable when attending swim lessons. As such, they have implemented the Aqua-Tots Full Circle of Safety to prevent the spread of COVID-19 in their swim school. These procedures focus on a modified swim school environment for the health of their families and staff, safety of their lessons and cleanliness of their facility. Preventative measures include social distancing in the lobby, hand sanitizer stations, enhanced cleaning procedures, masks for swim school staff and temperature checks for staff prior to each shift.
Additionally, a properly maintained and sanitized pool is still considered a safe environment for children and families. According to the CDC, "There is no evidence that the virus that causes COVID-19 can be spread to people through the water in pools, hot tubs, spas, or water play areas. Proper operation and maintenance (including disinfection with chlorine and bromine) of these facilities should inactivate the virus in the water." The Aqua-Tots pool contains a commercial sanitation and filtration system which maintains the proper chlorinated levels.
For a limited time, those who enroll in monthly swim lessons will receive a free swim lesson to get started. Aqua-Tots Westside Village is open seven days a week and encourages families to reserve a spot in small group (4:1 ratio), semi-private (2:1 ratio) or private (1:1 ratio) lessons before classes fill up. Aqua-Tots Westside Village will also feature the Special Needs Aquatic Program (S.N.A.P.), which tailors lessons to each child's special needs and abilities, Fast Track, which serves as a jumpstart to lessons, and birthday parties.
Aqua-Tots Westside Village is now hiring front desk staff and swim instructors. To apply, please contact Aquatic Manager Ally Gibson at westsidevillageam@aqua-tots.com. If you'd like to learn more about Aqua-Tots Westside Village or to pre-enroll in swim lessons, visit aqua-tots.com/atlanta-westside-village or call (770) 927-8155.
About Aqua-Tots Swim Schools
Aqua-Tots Swim Schools serves over 100 communities worldwide, offering dedicated, year-round, indoor swim instruction, community outreach and drowning prevention education to children of all abilities from four months to 12 years old. As the world's largest swim school franchise, their hand-selected instructors are passionate about teaching children how to remain safer in and around the water, using tried and true curriculum, 29+ years in the making and trusted worldwide to teach 2.9 million swim lessons annually. To learn more, visit http://www.aqua-tots.com.