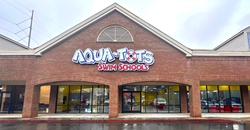 Many people ask about starting swim lessons in the winter, and we remind them that now is the best time to start their journey toward safe and confident swimming before summer. -Jesse Rhodenbaugh, Franchise Owner
SANDY SPRINGS, Ga. (PRWEB) December 06, 2022
Aqua-Tots Swim Schools, the largest international swim school franchise, announces the opening of their 130th worldwide location in Sandy Springs, Georgia. Located at 5290 Roswell Rd. at the intersection of Roswell and Mt. Paran Roads, Aqua-Tots Sandy Springs opened to the community on Monday, December 5, 2022.
Aqua-Tots Sandy Springs is the eighth Atlanta-area school and the thirteenth location for business partners, Andrew George, Jesse Rhodenbaugh and Tommy Fisher, who also own schools in North Carolina and Virginia. Upon opening the state-of-the-art 6,300 square foot facility, the team at Aqua-Tots will be ready to serve families in the Atlanta, Sandy Springs and Buckhead communities.
"We've always loved the families of Atlanta, and our new location in Sandy Springs gives us an opportunity to reach even more children with lifesaving swim lessons," said Rhodenbaugh. "Many people ask about starting swim lessons in the winter, and we remind them that now is the best time to start their journey toward safe and confident swimming before summer."
According to the Centers for Disease Control and Prevention, drowning is the leading cause of unintentional, injury-related death in children one to four years old. Drowning prevention education is vital year-round as 69% of children were not expected to be in or near a pool at the time of a drowning incident.
The National Institutes of Health also states that participation in formal swim lessons can reduce the risk of drowning by 88% among children ages one to four years, and the Aqua-Tots Swim Journey is comprised of eight levels of proven curriculum that is trusted all over the world to teach more than five million swim lessons every year.
Aqua-Tots Sandy Springs is now open Monday through Saturday, and for a limited time, families can lock in founder's pricing for as long as they are enrolled in lessons (a savings of $20/month). Families can reserve a spot in small group (4:1 ratio), semi-private (2:1 ratio) or private (1:1 ratio) lessons before classes fill up. Aqua-Tots Sandy Springs also features the Special Needs Aquatic Program (S.N.A.P.), Fast Track and adult swim lessons.
Aqua-Tots Sandy Springs is now hiring swim instructors. No experience is needed, and all positions include paid training. For more information and to apply online, visit aqua-tots.com/sandy-springs/employment or email a resume to sandyspringsgm@aqua-tots.com.
To learn more about Aqua-Tots Sandy Springs or to sign up for swim lessons, visit aqua-tots.com/sandy-springs.
About Aqua-Tots Swim Schools
Founded in 1991 and headquartered in the Phoenix area, Aqua-Tots Swim Schools is making waves as the largest international provider of year-round, indoor swim instruction, community outreach, and drowning prevention education. Its trusted program is dedicated to children of all abilities from four months to 12 years old and features a proven curriculum used to teach more than five million swim lessons each year.
Recognized in Entrepreneur's Franchise 500®, Inc. Magazine's Top 5000 and Franchise Times' Top 200, Aqua-Tots has more than 130 locations in 25 states across 14 countries and is rapidly expanding with 90 locations in development. To learn more about franchise opportunities, visit aqua-tots.com/franchise-development and for more information about Aqua-Tots or to sign up for lessons near you, visit aqua-tots.com or follow Aqua-Tots on Facebook and Instagram.