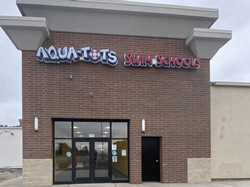 "The availability of a year-round activity where children can learn valuable life skills is always beneficial, but this year, with families working and learning from home, it provides an even more vital physical, social and emotional outlet for families." - Annette Tomina Bommarito
MESA, Ariz. (PRWEB) September 14, 2020
Aqua-Tots Swim Schools has announced the opening of its newest franchise location in Dearborn, Michigan, at the intersection of Michigan Avenue and Telegraph at 24441 Michigan Avenue, in the plaza shared by Planet Fitness and Chuck E. Cheese. Aqua-Tots Dearborn is the worldwide franchise's 114th location, which officially opened on Thursday, September 10, 2020.
Aqua-Tots Swim Schools has been the leader in the swim instruction industry since 1991, offering comprehensive swim curriculum for children as early as four months old. With over 100 locations in 14 countries, families all over the world experience the dedicated, year-round, indoor swim facilities where their children can become safe and confident swimmers by completing the proven Aqua-Tots curriculum.
The 7000 sq. foot, state-of-the-art swim school is the thirteenth Aqua-Tots location for siblings, Annette, Brian, JR and Patrick Tomina, and Chris Jaboro. The Tominas also own schools in California and Florida.
"Michigan is our home," said Franchise Owner Annette Tomina Bommarito. "We are always excited about coming alongside our friends, neighbors and the families of Michigan to offer them an exceptional swimming experience. The availability of a year-round activity where children can learn valuable life skills is always beneficial, but this year, with families working and learning from home, it provides an even more vital physical, social and emotional outlet for families."
According to the National Institutes of Health, "Consistency in formal swim lessons reduces the risk of drowning by 88% among children ages one to four years old." That's an encouraging reality since the Centers for Disease Control and Prevention reports that drowning is the leading cause of unintentional, injury-related death among children ages one to four.
Aqua-Tots Dearborn is committed to keeping families safe, healthy and comfortable when attending swim lessons. They have implemented the Aqua-Tots Full Circle of Safety to prevent the spread of COVID-19 in their swim school. This includes reduced lobby capacity, daily health checks, hand sanitizer stations, socially distanced seating areas, enhanced school-wide cleaning and many more procedures.
Additionally, a properly maintained and sanitized pool is still considered a safe environment for children and families. According to the CDC, "There is no evidence that the virus that causes COVID-19 can be spread to people through the water in pools, hot tubs, spas, or water play areas. Proper operation and maintenance (including disinfection with chlorine and bromine) of these facilities should inactivate the virus in the water." The Aqua-Tots pool contains a commercial sanitation and filtration system which maintains the proper chlorinated levels.
Aqua-Tots Dearborn is open seven day per week and encourages families to reserve a spot in small group (4:1 ratio) or semi-private (2:1 ratio) lessons before classes fill up. Aqua-Tots Dearborn will also feature the Special Needs Aquatic Program (S.N.A.P.), which tailors lessons to each child's special needs and abilities, as well as Fast Track, which serves as a jumpstart to lessons.
Families who enroll in group swim lessons will get an additional day each week free for the first month. ($88 value per child.) Additionally, Aqua-Tots Dearborn is now hiring for all positions. Visit http://www.aqua-tots.com/employment to apply by completing the online application. To register for swim lessons or to learn more about Aqua-Tots Dearborn, visit aqua-tots.com/dearborn or call (313) 915-5655.
About Aqua-Tots Swim Schools
Aqua-Tots Swim Schools serves over 100 communities worldwide, offering dedicated, year-round, indoor swim instruction, community outreach and drowning prevention education to children of all abilities from four months to 12 years old. As the world's largest swim school franchise, their hand-selected instructors are passionate about teaching children how to remain safer in and around the water, using tried and true curriculum, 29+ years in the making and trusted worldwide to teach 2.9 million swim lessons annually. To learn more, visit aqua-tots.com