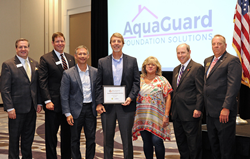 "I'll never stop feeling honored and humbled by the awards we receive, knowing they are a result of our team of now 250+ people, their effort, hard work, and dedication to doing the right things for the right reasons."
MARIETTA, Ga. (PRWEB) May 30, 2019
The Cobb Chamber of Commerce named AquaGuard a 2019 Top 25 Small Business of the Year Finalist at the Chamber's May 6th awards ceremony for innovation, sound approach to organizational challenges, and positive impact on the community.
At the Awards breakfast, AquaGuard Founder and Co-Owner, Tom DiGregorio, said that, "I'll never stop feeling honored and humbled by the awards we receive, knowing they are a result of our team of now 250+ people, their effort, hard work, and dedication to doing the right things for the right reasons."
Tom expanded with, "Those reasons are clearly conveyed by AquaGuard's Core Values – values by which we proudly live, hire and fire. My proudest accomplishment to date is not the incredible and consistent growth we've experienced the past few years, but the fact that we've done it with a company culture that's stronger than when we had 50 employees! That's no small feat, and it's a result of our employees committing to coming to work each day building our reputation, never relying on it."
AquaGuard provides homeowners with sensible solutions for waterproofing, foundation, and concrete support. Vice President and Co-Owner, Joe Rusk, goes on to tell us that, "At its core, AquaGuard exists as a service contractor with integrity that's driven to make the "extraordinary", ordinary. It's accountable to its employees, its customers, and the communities in which its employees work and live, and the company remains selfless in its pursuit to serve others."
Joe says that, "As co-owners Tom and I feel strongly that our companies' purpose is to provide peace of mind to its customers, its employees, and the communities it represents."
"We are so proud of all the small businesses that make up such an integral part of our community," said Cobb Chamber President and CEO Sharon Mason. "The quality of the businesses, the work they're doing in the community, the great jobs they're bringing—it all goes toward making Cobb County a vibrant and successful place to live, work and play."
Tom DiGregorio chuckles "I've heard it said that 'culture eats strategy for lunch,' and we believe that. Sustaining a positive and impactful culture allows us to be inspired – both individually continually and as a team – to help our customers, our community and ourselves, and to be and do the best we can. You see with us, everything truly matters. This award reinforces that Joe and I plus our entire team appreciate the Cobb Chamber for recognizing our efforts to provide peace of mind to those we serve."
To be considered for the Top 25 Small Businesses of the Year, organizations submit an application to the Cobb Chamber. Applicants must prove an increase in sales or unit volume, provide examples of innovation, discuss adversity and challenges, and thoroughly detail their community involvement. Applications are analyzed and considered by a group of independent community business leaders and affiliates of the Small Business Administration, with the five finalists being awarded a 30-minute office tour and presentation opportunity to showcase what sets them apart.
Click here to see the full list of 2019's Cobb Chamber Top 25 Small Businesses of the Year.
About AquaGuard Foundation Solutions
For more than two decades, Atlanta and North Georgia homeowners have trusted AquaGuard with their waterproofing, foundation repair, concrete leveling, and gutter replacement needs. The region's exclusive, authorized dealer for Contractor Nation, Supportworks, and GutterShutter waterproofing, structural repair, concrete repair, and covered gutter system products, AquaGuard repairs more than 120 homes per week. It offers nationally-backed, fully-transferable, industry-leading warranties – in most cases for the life-of-structure – a Price Assurance Guarantee, and is one of the only waterproofing contractors in Georgia that staffs a full-time, dedicated Service Department for any post-installation issues that may arise.
About the Cobb Chamber
As one of the most influential business advocacy organizations in Georgia, the Cobb Chamber is dedicated to bringing the community and its leaders together to create jobs and strengthen the economy and quality of life so businesses and the community can achieve more. The Chamber achieves this by creating jobs and driving economic development; strengthening the community and the region; growing member businesses and nurturing leadership; and connecting businesses, government, and the community.