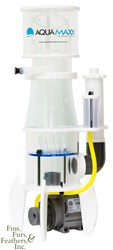 I'm very satisfied with this skimmer: crystal clear water with typical AquaMaxx quality and pricing.
Garden Grove, CA (PRWEB) July 31, 2013
Internet retailer MarineDepot.com is introducing saltwater aquarium hobbyists to the latest in tank filtration technology this summer with the release of the AquaMaxx ConeS Series Protein Skimmer. Now available at Marine Depot for aquariums up to 500 gallons, ConeS skimmers use cool, Coke bottle-like conical diffusers to maximize efficiency and performance.
"The ConeS protein skimmer has been a hot commodity since AquaMaxx released the CO-1 in June," said Ben Ros, Director of Operations for MarineDepot.com. "We brought aboard the larger CO-2 and CO-3 skimmers only a couple of weeks ago and they are already topping our best-seller list."
Marine and reef aquariums frequently contain a lot of organic material—animal waste, uneaten food, excess bacteria and toxins from corals and other organisms—in much higher levels than you would find in an ocean reef. Protein skimmers are a type of mechanical filter that removes these organic compounds before they break down and have adverse effects on water quality, causing nuisance algae growth or health problems in fish, coral and invertebrate.
"The attention to detail in the ConeS series is undeniable," said Robert Farnsworth, Media Coordinator for Marine Depot. "From the strikingly innovative bubble chamber to the subtlety of the handgrip on the collection cup, the design refinements in this line are likely to push other manufacturers into rethinking their approach."
Despite differing sizes, styles and technologies that power protein skimmers, most essentially operate the same way. Water is pulled from an aquarium into a protein skimmer pump. Inside the pump, a spinning impeller chops incoming air bubbles into smaller bubbles. Organic material reacts and sticks to these micro bubbles inside the skimmer body and produces foam called skimmate that rises into a collection cup for removal. The foam is similar to what you'd find on the beach after waves crash along the shoreline.
"What it boils down to when selecting equipment is getting the most bang for your buck," said Ros. "ConeS protein skimmers, like other AquaMaxx products, offer premium-level performance at a mid-range price point. The cool part is the little nuances AquaMaxx tricked out this line with—it lets you know they understand what it's like to set up and maintain one of these devices."
Among the standout features are the soda pop bottle-shaped conical diffusers on the bubble plate that reduce turbulence in the reaction chamber to achieve a laminar flow. Combined with the hybrid-cone shape of the skimmer itself, bubble transition to the collection cup is boosted for maximum waste removal. Keeping noise to a minimum was another goal of the AquaMaxx build team. For near-silent operation, a built-in air intake silencer was added along with 'ShockMaxx' rubber feet on the bottom of the skimmer to isolate noise and reduce vibration.
"This is my second AquaMaxx skimmer and appears to be the better of the two," said Marine Depot customer Curtis Howard of Diamond Bar, CA. "It far exceeds others I have used. There are a few refinements with the collection cup that will lead to easier cleaning and maintenance."
Saltwater aquarium owner William Burkholder of Warrington, PA, agrees.
"This unit is almost silent—no noise from the air intake and just about no noise from the pump. I'm very satisfied with this skimmer: crystal clear water with typical AquaMaxx quality and pricing."
The AquaMaxx ConeS In-Sump Protein Skimmer line is available now at MarineDepot.com from $256.99 up to $409.99, depending on the size of your aquarium.
About Marine Depot
MarineDepot.com is the world's #1 supplier of marine and reef aquarium supplies. The company was founded in 1997 by self-professed "fish geek" Ken Wong after he became frustrated by the lack of selection and support provided by many local fish stores. Today, Marine Depot offers over 7,000 popular and hard-to-find products with free technical support provided by a staff of aquarium experts known as the Reef Squad. MarineDepot.com employs 45 full- and part-time employees in Garden Grove, CA. The company was included in the Inc. 500|5000 List of Fastest Growing Businesses in 2011 and is a 3-time Top 500 Internet Retailer and BizRate Circle of Excellence winner.
About AquaMaxx
AquaMaxx is a Southern California-based aquarium supply company that entered the market in mid-2008 with a line of affordable metal halide bulbs. The brand quickly gained recognition as word spread about the high quality and low cost of their lamps. In 2009, AquaMaxx released a line of aquarium filter socks and, in early 2010, unveiled an assortment of high-performance protein skimmer accessories and upgrades. AquaMaxx meticulously researches and develops all merchandise to ensure the final products are easy to use, built to last and, most importantly, beneficial to marine and reef aquariums and their owners. AquaMaxx stands behind their products and is already hard at work on the next generation of saltwater aquarium maintenance solutions.
###