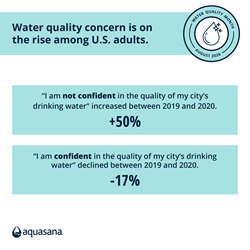 "This year's survey shows that Americans are paying more attention to what's in their tap water and are taking the necessary steps to their homes and families."
AUSTIN, Texas (PRWEB) August 20, 2020
Aquasana, a leading maker of high-performance water filtration solutions for the home, today announced the results of its second annual Water Quality Survey. In honor of National Water Quality Month, this year's survey asked 1,522 U.S. adults how they feel about their municipal drinking water, including their confidence in its quality, their most pressing contaminant concerns, and more.
Overall, the 2020 survey results revealed that public trust in municipal drinking water quality in the U.S. is on the decline. The number of adults who said they are "confident in the quality of their city's drinking water" dropped 17% from 2019 (49% vs. 59%). On the opposite end, the survey found a sharp 50% increase in the number of people who said they are "not confident in the quality of their city's drinking water," up from 14% to 21% in 2020.
"Keeping a finger on the pulse of America's most critical water quality concerns is part of Aquasana's DNA," said Derek Mellencamp, General Manager of Aquasana. "As a direct-to-consumer filtration brand, we're in the unique position to listen and learn first-hand from the thousands of customers we interact with on a daily basis. This annual survey helps shine a spotlight on the very serious drinking water issues our nation faces today and identifies where there's need for education and innovation tomorrow."
When it comes to specific contaminants that may be present in tap water, one in three adults (33%) chose lead as their primary concern, followed by bacteria and cysts (19%), chlorine and chloramines (14%), pesticides and herbicides (13%), and fluoride (7%). Additionally, the survey found that awareness around PFOA/PFOS – the "forever chemicals" that garnered national attention in the 2019 movie Dark Waters – is on the rise, with a 44% increase in familiarity in 2020 (18% vs. 26%).
Between generations, Millennials are twice as likely to identify PFOA/PFOS as their top water contaminant concern when compared to non-Millennials. In terms of growth, Gen Z made the biggest year-over-year gains in familiarity with PFOA/PFOS with a 114% increase (14% vs. 30%). Not surprisingly, the survey found that parents were consistently more knowledgeable and aware of water quality issues overall than non-parents. In fact, parents are 67% more likely to be familiar with PFOA/PFOS as it relates to water when compared to non-parents.
Awareness and concern over harmful contaminants in drinking water is on the rise across the board. According to the survey, nearly three out of four U.S. adults (73%) filter their drinking water at home. "We've dedicated the past 20 years to helping educate our customers and the broader public on the importance of filtering your water," added Mellencamp. "This year's survey shows that Americans are paying more attention to what's in their tap water and are taking the necessary steps to protect their homes and families."
For the full list of survey results and findings, including more insights into Americans' views on bottled water and other drinking water topics, visit http://www.aquasana.com.
About Aquasana
Aquasana, an A. O. Smith Corporation company (NYSE-AOS), is dedicated to improving the overall health and wellness of every home by delivering clean, healthy and great-tasting water through its best-in-class water filtration systems. Aquasana's family of award-winning premium water filters – including whole-house filtration systems, shower filters, under sink filters, reverse osmosis systems, portable filter bottles and the first-ever powered countertop Clean Water Machine – provide easy and immediate access to healthy water at home and on the go.