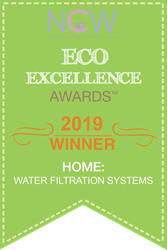 "Filtering your tap water is one of the most effective ways to improve the overall health and environmental quality of your home."
AUSTIN, Texas (PRWEB) September 25, 2019
Aquasana, maker of award-winning water filtration products for the home and on-the-go, has been named a 2019 Eco Excellence Award winner by Natural Child World (NCW) magazine for its portable filter bottle, the Aquasana Clean Water Bottle, and the 5300+ Max Flow under sink water filtration system. Recognized for its high-performance water filtration technology and significant role in helping reduce single-use plastic waste, this is the fourth consecutive year Aquasana has received the coveted industry award.
"Filtering your tap water is one of the most effective ways to improve the overall health and environmental quality of your home," said Derek Mellencamp, general manager at Aquasana. "As concerns about the quality of our nation's drinking water continue to rise, along with the enormous impact of plastic pollution, it's more important than ever that we encourage both brands and consumers to become more socially and environmentally sustainable. We're honored to be recognized by NCW among the other Eco Excellence Award honorees who are leading this charge."
The winner of the Best Reusable Bottle category four years in a row, Aquasana's Clean Water Bottle ($40) provides instant access to clean water on the go. Designed to keep water cold for up to 24 hours, the Clean Water Bottle features a built-in filter that's NSF-certified to reduce more than 99% of chlorine, lead, bacteria, giardia and cryptosporidium.
The Aquasana 5300+ Max Flow under sink water filter ($175) was named the Best Water Filtration System for its ability to reduce up to 99% of lead and 76 other contaminants, including PFOA/PFOS, asbestos, pharmaceuticals, chloramines, herbicides, pesticides, industrial solvents, volatile organic compounds (VOCs) and mercury, all while preserving healthy minerals like calcium, magnesium and potassium. A smart home solution for cleaner water, the 5300+ is Bluetooth-enabled and has a faster flow rate that's ideal for all kitchen needs.
Now in its ninth year, the Eco Excellence Awards, created by NCW, recognize excellence in the social and environmental sustainability for products, services and organizations committed to healthier approaches to living. NCW is the leading lifestyle publication with a clear focus on ecologically and socially responsible consumer values that addresses the needs of parents looking to make healthier choices for themselves and their children.
Both award-winning products are available nationwide for purchase at Aquasana.com.
About Aquasana
Aquasana, an A. O. Smith Corporation company (NYSE-AOS), is dedicated to improving the overall health and wellness of every home by delivering clean, healthy and great-tasting water through its best-in-class water filtration systems. Aquasana's family of award-winning premium water filters – including whole-house filtration systems, shower filters, under counter filters, reverse osmosis systems, portable filter bottles, and the first-ever powered countertop Clean Water Machine – provide easy and immediate access to healthy water at home and on the go. For more information, visit http://www.aquasana.com.