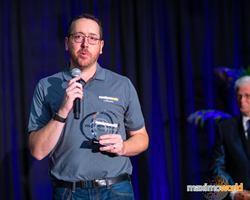 "Connecting our factory data to our asset performance is a key strategy for Agropur. We cannot continue to grow our business by using antiquated maintenance practices." -Dave Kindt
ROSWELL, Ga. (PRWEB) August 27, 2019
Aquitas Solutions, a leading provider of Enterprise Asset Management (EAM) and IoT solutions that optimize asset intensive industries, announced today that they were selected as the winner for two MaximoWorld Awards, presented by Reliabilityweb.com and Uptime Magazine at the 2019 MaximoWorld conference: Best AI/Machine Learning/IIoT Implementation along with Leprino Foods and Best Data Alignment with Business Processes along with Agropur. Both projects utilize the Company's Connected Maintenance solution, leveraging the leading IoT technology of PTC's ThingWorx integrated with IBM's Maximo for real-time condition monitoring and automated maintenance response.
"We are very proud to be recognized for our Connected Maintenance implementation with our customer, Leprino Foods. The solution will fundamentally change the structural costs of maintenance at Leprino, and we couldn't have asked for a better partner in this endeavor," commented Wayne Brisson, CEO of Aquitas Solutions. Laura Lamb, Director of Maintenance at Leprino Foods added, "Our Vision is to be the World's Best Dairy Food and Ingredient Company. This is supported through our values of Quality, Service, Competitive Price and Ethics. We deliver these through Innovation. We appreciate the partnership with Aquitas Solutions and the acknowledgement from Maximo World on driving Innovation in the AI/Machine Learning/IIoT Implementation."
As winners of Best Data Alignment with Business Processes, the partnership between Aquitas and Agropur demonstrated an innovative adaptation of Connected Maintenance that successfully integrated IoT data into Agropur's existing maintenance infrastructure. Jason Verly, Asset and Reliability Manager at Agropur and project champion commented that, "Integrating Maximo to our plant's IoT data with ThingWorx aligns with how we know we need to automate our business processes. We need to find the exceptions to how our plants are operating in a flood of information that shows everything is working."
Dave Kindt, Senior Director of Engineering of Agropur, added that, "Connecting our factory data to our asset performance is a key strategy for Agropur. We cannot continue to grow our business by using antiquated maintenance practices."
Both award-winning IoT projects were featured during MaximoWorld's first ever IoT Track, sponsored by Aquitas Solutions.
MaximoWorld, hosted by Reliabilityweb.com and Uptime Magazine, is the largest cross-industry gathering for Maximo users, partners and other subject matter experts to network and share innovative ideas and best practices. With over 1,200 attendees, MaximoWorld is the premier event for anyone who works with IBM's Maximo Enterprise Asset Management software.
About Aquitas Solutions
Aquitas Solutions is a leading provider of EAM and IoT solutions that optimize asset intensive industries. The Company prides itself on working strategically and collaboratively with the top, globally recognized EAM and IoT platform solution providers to heighten business value and bring bottom-line benefits to their clients.
Based in Atlanta, GA, Aquitas' leadership team and management consultants have industry leading enterprise asset management experience and have been early adopters of IoT technology that helps clients leverage their EAM system to optimize performance and improve productivity and service levels across the entire spectrum of their organization.
The Company has a long history of delivering faster, smarter, and more agile solutions at a competitive rate helping customers streamline their internal processes and compete more efficiently in an increasingly synergetic world.
Aquitas Solutions is a registered Service Disabled Veteran Owned Small Business (SDVOSB) and proud Advocate of Women in Reliability Asset Management (WIRAM).