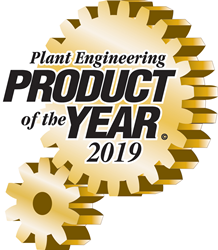 "Being selected as a Finalist for Plant Engineering's Product of the Year Award marks an entirely new level of achievement for our IoT team." -Maddy Hawkins, Director, IoT Sales
ROSWELL, Ga. (PRWEB) November 15, 2019
Aquitas Solutions, a leading provider of Enterprise Asset Management (EAM) and IoT solutions that optimize asset intensive industries, announced today that they received the prestigious honor of being selected as a finalist for Plant Engineering's Product of the Year Award. Plant Engineering is a trade publication and website that delivers strategic knowledge in manufacturing, maintenance, and mechanics and reports on industry best practices in these fields. The Product of the Year Award honors companies that have developed new products, offering smarter and more efficient ways to do business.
Spanning at least fifteen different product categories, Plant Engineering's 32nd annual Product of the Year Award is a distinctive honor, and being selected as a finalist itself is a notable accomplishment. Aquitas is proud to be among some of the top innovators in the latest technologies for smart devices in maintenance and manufacturing. The Company's Connected Maintenance solution has won five other awards over the last two years for its revolutionary use of IoT in asset management. Aquitas continues to lead the charge in driving digital transformation in maintenance organizations by enabling asset connectivity, digitalization and automation. With an increasing presence in the IoT space, Aquitas has invested heavily in educating the market and continuing development efforts to align with customer needs. Connected Maintenance leverages the Industrial IoT technology of PTC's ThingWorx integrated with an Enterprise Asset Management (EAM) system, like IBM's Maximo, to revolutionize the way maintenance is executed.
"Plant operations teams are heavily dependent on maintenance organizations to support their Overall Equipment Effectiveness (OEE) goals." Jeff Brown, COO of Aquitas commented. "Connected Maintenance brings these two groups together to see the same data at the same time and act accordingly."
"Our Connected Maintenance solution has been the recipient of several industry accolades and awards this year, but being selected as a Finalist for Plant Engineering's Product of the Year Award marks an entirely new level of achievement for our IoT team," stated Maddy Hawkins, Director of IoT Sales at Aquitas Solutions. She continued, "To be recognized among the most innovative companies and industrial technology solutions of our time is a surreal experience but reflects the tireless efforts of our entire team to create a solution that fundamentally changes maintenance operations."
Voting for Product of the Year opened Thursday, November 14th and closes January 10, 2020. Please consider voting for Aquitas' Connected Maintenance solution through Plant Engineering's website. A full list of finalists for the award can be found on the website.
About Aquitas Solutions
Aquitas Solutions is a leading provider of EAM and IoT solutions that optimize asset intensive industries. The Company prides itself on working strategically and collaboratively with the top, globally recognized EAM and IoT platform solution providers to heighten business value and bring bottom-line benefits to their clients.
Based in Atlanta, GA, Aquitas' leadership team and management consultants have industry leading enterprise asset management experience and have been early adopters of IoT technology helping clients leverage their EAM system to optimize performance and improve productivity and service levels across the entire spectrum of their organization.
The Company has a long history of delivering faster, smarter, and more agile solutions at a competitive rate helping customers streamline their internal processes and compete more efficiently in an increasingly synergetic world.
Aquitas Solutions is a registered Service Disabled Veteran Owned Small Business (SDVOSB) and proud supporter of Women in Reliability Asset Management (WIRAM).