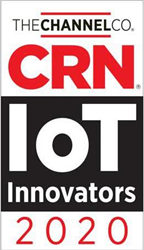 Instead of focusing on software and tools, Aquitas provides value in our innovative business solutions across software platforms. Customers shouldn't have to care about the technical details…that's our job. - Jeff Brown, Partner at Aquitas
ROSWELL, Ga. (PRWEB) January 26, 2021
Aquitas Solutions, a leading provider of Enterprise Asset Management (EAM) and IoT solutions that optimize asset intensive industries, announced today that they have been recognized by CRN, a brand of The Channel Company, as a 2020 IoT Innovators Award winner. Aquitas first earned recognition from CRN in 2018 for their pioneering use of IoT in asset management – integrating IBM's Maximo Enterprise Asset Management solution with PTC's ThingWorx Industrial Internet of Things (IIoT) platform to automate maintenance action based on real-time condition monitoring rules and alerts.
In 2020, a year marked by countless challenges, Aquitas continued to focus and even expand their efforts in IoT. Leading the charge to drive innovation and operational change for customers, they introduced an entire portfolio of IoT and AR solutions that extend current maintenance best practices. These solution offerings cater to the needs of companies across all industries and leverage existing assets, sensors and systems along with new technologies to enable digital transformation.
Being recognized by CRN is a testament to the hard work that Aquitas has invested in IoT and the knowledge they've acquired with delivering these best-in-class solutions.
"The phrase 'Innovators Award' is particularly special about this recognition," commented Jeff Brown, Partner at Aquitas. "Instead of focusing on software and tools, Aquitas provides value in our innovative business solutions across software platforms. Customers shouldn't have to care about the technical details…that's our job."
Aquitas will continue to drive maintenance excellence with these innovative technologies and support maintenance organizations in their journey toward digital transformation. The complete IoT Innovators Award list is featured on CRN's website.
About Aquitas Solutions
Aquitas Solutions is a leading provider of EAM and IoT solutions that optimize asset intensive industries. The Company prides itself on working strategically and collaboratively with the top, globally recognized EAM and IoT platform solution providers to heighten business value and bring bottom-line benefits to their clients.
Based in Atlanta, GA, Aquitas' leadership team and management consultants have industry leading enterprise asset management experience and have been early adopters of IoT technology helping clients leverage their EAM system to optimize performance and improve productivity and service levels across the entire spectrum of their organization.
The Company has a long history of delivering faster, smarter, and more agile solutions at a competitive rate helping customers streamline their internal processes and compete more efficiently in an increasingly synergetic world.
Aquitas Solutions is a registered Service Disabled Veteran Owned Small Business (SDVOSB) and proud supporter of Women in Reliability Asset Management (WIRAM).