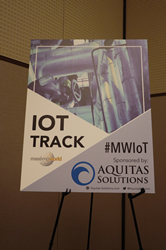 "The success of the 2019 IoT Learning Track made it an easy decision to continue our sponsorship in 2020. This track provides a platform for attendees to share and learn from others." Maddy Hawkins, Director of IoT Sales
ROSWELL, Ga. (PRWEB) January 09, 2020
Aquitas Solutions, a leading provider of Enterprise Asset Management (EAM) and IoT solutions that optimize asset intensive industries, announced today that they will sponsor the second ever IoT Learning Track at the 2020 MaximoWorld Conference in Orlando, FL this August. Hosted by Reliabilityweb.com, MaximoWorld is the largest cross-industry gathering of Maximo and Asset Management professionals. The conference, now in its 19th year, attracted over 1,100 users last year, both technical and functional, from 32 countries, as well as business executives and process experts from a variety of industries.
"The success of the 2019 IoT Learning Track made it an easy decision to continue our sponsorship in 2020. This track provides a platform for attendees to share and learn the innovative and groundbreaking ways that Maximo customers are leveraging new IoT, AI, and AR technologies to transform maintenance operations." commented Maddy Hawkins, Director of IoT Sales at Aquitas Solutions. "Leveraging asset data like sensors or PLCs to become more predictive is easier and more cost effective than ever before, and we are excited to feature use cases and stories that will resonate with customers at all stages of the Predictive Maintenance journey."
Last year, the IoT Track featured compelling discussions of predictive maintenance, critical asset monitoring, and important takeaways from successful IoT implementation projects. This year, Aquitas plans to bring new customers, knowledge and resources that will benefit attendees at all stages of their IoT journey.
In addition to the IoT Learning Track, Aquitas will return to MaximoWorld as a Platinum Sponsor. They will have Maximo experts on site to answer any Maximo related questions, as well as their IoT Team who will be conducting live demonstrations of their award-winning Connected Maintenance solution for Maximo.
Aquitas invites any and all Maximo customers who have an innovative way of using IoT in maintenance to submit an abstract for the IoT Track using the attached form.
About Aquitas Solutions
Aquitas Solutions is a leading provider of EAM and IoT solutions that optimize asset intensive industries. The Company prides itself on working strategically and collaboratively with the top, globally recognized EAM and IoT platform solution providers to heighten business value and bring bottom-line benefits to their clients.
Based in Atlanta, GA, Aquitas' leadership team and management consultants have industry leading enterprise asset management experience and have been early adopters of IoT technology helping clients leverage their EAM system to optimize performance and improve productivity and service levels across the entire spectrum of their organization.
The Company has a long history of delivering faster, smarter, and more agile solutions at a competitive rate helping customers streamline their internal processes and compete more efficiently in an increasingly synergetic world.
Aquitas Solutions is a registered Service Disabled Veteran Owned Small Business (SDVOSB) and proud supporter of Women in Reliability Asset Management (WIRAM).
http://www.aquitas-solutions.com/