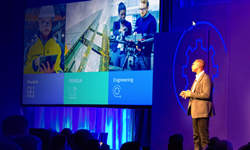 It is gratifying to see the investment that IBM continues to make in Maximo and its ecosystem. -Ray Miciek, Executive VP of Sales
ROSWELL, Ga. (PRWEB) March 04, 2020
Aquitas Solutions, a leading provider of Enterprise Asset Management (EAM) and IoT solutions that optimize asset intensive industries, announced today that they will be a sponsor at IBM's IoT Exchange in Orlando, FL next month. IoT Exchange, an intensive two-day conference showcasing innovative digital processes, will feature the Maximo Academy for attendees seeking to learn new Maximo capabilities, talk to the experts and explore how IoT can optimize asset performance within Maximo.
Aquitas will bring their Connected Maintenance solution to IoT Exchange and conduct live demos throughout the conference. The innovative solution has already received six different industry awards by fundamentally changing the way maintenance is performed. Connected Maintenance provides the connectivity, intelligence, and real-time alerting capabilities in Maximo to drive value across the enterprise by reducing downtime, improving asset performance, and optimizing maintenance processes.
"It is gratifying to see the investment that IBM continues to make in Maximo and its ecosystem." Ray Miciek, Executive VP of Sales for Aquitas commented. "This event will showcase those investments and demonstrate how they are evolving Maximo to meet the needs of the rapidly changing maintenance organization."
IoT Exchange will provides ample learning opportunities that enable customers to improve and expand their use of Maximo. The exhibition is designed to be immersive, hands-on, and educational for all attendees and foster engagement between Maximo users. Aquitas will have several Maximo and IoT experts on hand to help customers address specific questions or problems they are facing.
About Aquitas Solutions
Aquitas Solutions is a leading provider of EAM and IoT solutions that optimize asset intensive industries. The Company prides itself on working strategically and collaboratively with the top, globally recognized EAM and IoT platform solution providers to heighten business value and bring bottom-line benefits to their clients.
Based in Atlanta, GA, Aquitas' leadership team and management consultants have industry leading enterprise asset management experience and have been early adopters of IoT technology helping clients leverage their EAM system to optimize performance and improve productivity and service levels across the entire spectrum of their organization.
The Company has a long history of delivering faster, smarter, and more agile solutions at a competitive rate helping customers streamline their internal processes and compete more efficiently in an increasingly synergetic world.
Aquitas Solutions is a registered Service Disabled Veteran Owned Small Business (SDVOSB) and proud supporter of Women in Reliability Asset Management (WIRAM).
http://www.aquitas-solutions.com/