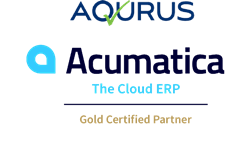 Aqurus has demonstrated Acumatica Cloud ERP platform master proficiency we are proud to introduce them to potential Acumatica clients in Western Canada, Adrian Montgomery, Founding Partner ERPVAR
DANA POINT, Calif. (PRWEB) November 09, 2021
ERPVAR announces a strategic partnership with Aqurus, a leading provider of Acumatica Cloud ERP software. The ERPVAR directory for Acumatica ERP consultants highlights Aqurus offerings.
The Aqurus team includes subject matter experts in finance and accounting, supply chain management, project management, information systems, business intelligence, custom application development and customer support. Our team is flexible and scalable to fit your project and customer requirements.
About Aqurus
Since 2010, Aqurus has been bringing business management software solutions to clients. Aqurus recognizes how to match your journey to success with the tools to get there.
With ERP software designed to streamline efficient business workflows, Cloud ERP software designed for the web as well as integrated office productivity, business intelligence and technical solutions, Aqurus offers compelling products for your growing organization.
Aqurus Solutions is a Gold Certified Acumatica Cloud ERP Partner, covering all regions of Western Canada, with clients in Calgary, Edmonton, and Metro Vancouver.
Acumatica is a leading provider of cloud business management software that empowers small and mid-size businesses to reach their potential and drive growth. Built on the world's best cloud and mobile technology, Acumatica delivers a suite of fully integrated applications powered by a robust and flexible platform.
Our team specializes in streamlined implementations. We get you up and running quickly through turnkey installations. Our templated implementations empower users while our knowledgeable resources are available to support you.
Specializing in Wholesale Distribution, Supply Chain Management, Manufacturing and MRP, and Cloud for Business across Western Canada, Aqurus can help your business leapfrog the competition.
About ERPVAR
Established in 2012 and headquartered in Orange County, CA, ERPVAR represents the collective expertise of Acumatica, Sage 100cloud, Sage 300cloud, Sage Intacct, Microsoft Dynamics GP, NetSuite and QuickBooks Enterprise third-party developers combined with the expertise of local implementation Partners. These local Partners provide end-users with a thorough needs analysis to determine which ERP software functionality is required to address their unique needs. If a business process assessment is required, the local channel partner is enlisted to provide a comprehensive examination with end-user company departments to ensure the correct ERP software is selected, implemented and the staff is professionally trained. Please visit https://www.erpvar.com for more information.