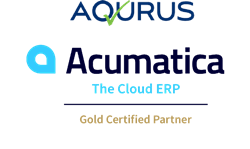 We are excited to introduce our new company website design to our clients, partners and visitors who seek to streamline business process automation," said Murray Quibell, President
CALGARY, Alberta (PRWEB) February 21, 2023
Aqurus, a leading Acumatica partner, announces the launch of its new website. The new site features a streamlined, intuitive design with enriched content to help our clients and prospective clients make informed decisions about integrated ERP software.
Aqurus will offer regular updates regarding ERP software events and news. Visitors are encouraged to subscribe for updates to learn about modern ERP software. The new website provides on-demand videos demonstrating integrated Acumatica Cloud ERP functionality. Customers seeking to replace their current legacy ERP, QuickBooks, Sage, Microsoft or SYSPRO ERP systems will find a wealth of information to research on the new Aqurus website. If you are in the manufacturing, distribution, eCommerce or construction business and spend many late nights worried about duplicate data entry time and errors employees make, you will want to visit the new site to find a resolution to these issues.
Visit the new "mega menu" to compare ERP systems.
About Aqurus
Aqurus Solutions delivers Cloud Enterprise Resource Planning (ERP) software solutions to growing Manufacturing and Distribution businesses in Western Canada. Aqurus Solutions is a Gold Certified Acumatica Cloud ERP Partner with offices in Calgary, Kelowna, and Burnaby. Aqurus specializes in Distribution, eCommerce, Manufacturing, and Services solutions, with a deep, experienced team of implementation resources.
Acumatica Cloud ERP is a leading cloud business management software provider that empowers small and mid-size businesses to reach their potential and drive growth. Acumatica delivers fully integrated ERP applications powered by a robust and flexible platform built on the world's best cloud and mobile technology.