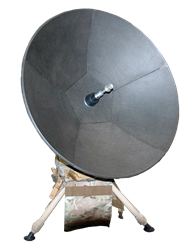 "We are excited to offer the expeditionary WGS user community a significant increase in capability to our widely deployed SPRS product," says AQYR President and Windmill CEO, Carl D'Alessandro.
NASHUA, N.H. (PRWEB) October 14, 2019
AQYR Technologies, Inc., a wholly owned subsidiary of Windmill International, Inc., is pleased to announce that it has received Army Strategic Command (ARSTRAT) Wideband Global System (WGS) certification of its 80cm and 60cm reflector options for the AN/PRS-11 Suitcase Portable Receive Suite (SPRS) satellite terminal. This is a "delta" certification as the AN/PRS-11 is already ARSTRAT certified.
An AN/PRS-11 configured with these carbon fiber reflectors provides significantly enhanced performance compared to its baseline flat panel design and to other commercial products in its class. 80cm and 60cm reflector-based terminal systems will be commercially available (as the KA-PRT-80 or KA-PRT-60) and AQYR will also offer standalone dish kits which can be used to upgrade flat panel-based AN/PRS-11 systems.
In addition to ARSTRAT certification, the reflector-based terminals successfully completed rigorous Military Standard (MIL-STD) 810G environmental testing. 810G evaluates how products are going to fare in extreme conditions, and analyzes such factors are shock, vibration, cold, heat, salt, humidity, etc. This important result ensures that reflector-based AN-PRS-11 terminal variants will perform in the most challenging environments our expeditionary users operate in.