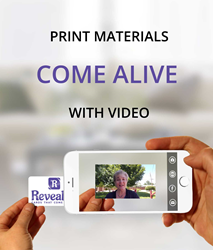 Augmented Reality is a core technology that is going to be as influential to our society as smart phones - Tim Cook, CEO of Apple
Los Angeles, CA (PRWEB) August 16, 2017
With wide eyes, Dean proclaimed, "Holy smokes! That is unbelievable. This is what's going to happen people! This thing is going to be gigantic."
Bay Area tech founder, author, and speaker, Michelle Calloway, officially launched REVEALiO's B2B mobile app in a video interview with Dean Cain (a.k.a. Superman). The augmented reality (AR) technology shocked Dean as he watched a business card magically COME ALIVE (with a video overlay) through a smartphone.
Click here to watch full interview with Dean Cain
After the success of REVEALiO's B2C greeting card app, Michelle is applying the same principles to the business world with the new B2B Marketing app. It gives small business owners and marketers an affordable option to start using augmented reality as a captivating lead generation tool. Users say it helps them stand out from their competition and be looked upon as leaders in their industry. Brand products and printed promotional materials such as business cards, trade show booths, events, t-shirts and more, can be turned into robust, interactive augmented reality experiences.
Augmented reality took the world by storm last summer with the Pokémon Go craze. It illustrated that people are receptive to augmented reality experiences and captivated by them. The AR/VR market is predicted to reach $108 Bn by 2021, with augmented reality taking the lion's share of $83 Bn (Digi-Capital). Tech giants see the potential - Apple CEO Tim Cook said augmented reality may have as big of an impact as the smartphone (The Verge).
There is a massive surge in augmented reality and REVEALiO is focused on making it accessible and affordable to business owners as a marketing tool. The power of REVEALiO is that it combines augmented reality with another red-hot marketing trend: video. 52% of marketers worldwide named video as the type of content with the best ROI (HubSpot).
Michelle describes why REVEALiO is so impactful as a marketing tool. "You're able to CAPTIVATE your audience as your brand or product comes alive before their eyes. You CONNECT with them as you begin talking to them through the video. You ENGAGE them with a visual message about your product or service, and finally you DIRECT them to take next steps through virtual call-to-action buttons that appear on the mobile screen."
See the full video interview with Dean Cain.
Get started with augmented reality marketing!
Explore business partnership opportunities with REVEALiO.
Learn more about Michelle Calloway's presentations, including her signature presentation, "Technology with a Heart: Captivating Audiences and Influencing Buying Decisions": MichelleCalloway.us.
--
About REVEALiO
REVEALiO is one of the first to bring augmented reality to the business sector as a captivating and influential lead generation tool. Our goal is to elevate business owners and provide them with competitive advantage. We want everyone to experience the rich, connective power of AR. We offer affordable full-service solutions that will fit any budget. Charities and non-profits are encouraged to try augmented reality marketing as well. Learn more at REVEALiO.com.
About Michelle Calloway
Michelle is a speaker, international bestselling author and the Founder/CEO of REVEALiO, an augmented reality marketing company. Audiences walk away from Michelle Calloway's presentations feeling inspired and empowered to begin using augmented reality marketing technology to captivate their audiences and influence buying decisions. Based in the San Francisco Bay Area, Michelle is growing REVEALiO and teaching audiences how emerging marketing technologies can set themselves apart, authentically connect with people, and build brand loyalty. Learn more about Michelle at MichelleCalloway.us.