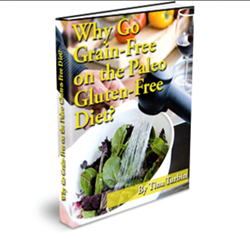 I'm excited to help Dr. Safi in his efforts to further the celiac cause in Saudi Arabia and other Middle Eastern countries.
Los Angeles, CA (PRWEB) August 30, 2017
Thanks to a new, Arabic translation of one of her books, Why Go Grain-Free, prolific American author Tina Turbin will be helping to spread the word about celiac disease and the gluten-free diet in the Middle East.
In Why Go Grain-Free on the Paleo Gluten-Free Diet, Turbin shares a variety of clinical studies demonstrating the health benefits of eating grain-free, especially for individuals with celiac disease.
Dr. Mohammad Ayman Abdulkarim Safi, an Associate Professor at King Abdulaziz University, came across Tina Turbin's books on PaleOmazing.com and contacted the author about translating Why Go Grain-Free into Arabic. According to Dr. Safi, Ph.D. in Biochemistry and Immunology, data suggests that the prevalence of celiac disease in Saudi Arabia might be among the highest in the world. Dr. Safi's goal with translating Turbin's title is to help more people in Saudi Arabia and other Arab countries adopt a gluten-free diet.
"I was delighted that Dr. Safi reached out to me," Tina said. "It is an important reminder that celiac disease is a worldwide issue. I'm excited to help Dr. Safi in his efforts to further the celiac cause in Saudi Arabia and other Middle Eastern countries."
The prevalence of celiac disease, an autoimmune disorder triggered by gluten, a protein found in wheat, barley, and rye, was previously considered to be low in Middle Eastern and North African countries. However, according to a 2013 study published in the World Journal of Gastroenterology, "The seroprevalence rate of 2.2% (1 in 45) found in our study might be one of the highest seroprevalence rates of celiac disease in the world."
Turbin's websites,http:// http://www.PaleOmazing.com and http://www.GlutenFreeHelp.info, are among the leading online resources for the gluten-free and paleo community. She has authored dozens of books and hundreds of articles on celiac disease and eating grain-free and gluten-free. A diagnosed celiac, Turbin found that her symptoms resolved after eliminating grains on what she calls a "paleo-ish" gluten-free diet.
Turbin looks forward to seeing more of her books translated into Arabic by Dr. Safi and the medical faculty at King Abdulaziz University.
###
TO BOOK TINA TURBIN FOR AN INTERVIEW OR SPEAKING ENGAGEMENT: Please contact mailto:pr(at)thePRGroupEast-West.com.
ABOUT TINA TURBIN: Tina Turbin is a renowned, multi-award-winning author, baker and cook. Turbin is a well-known celiac advocate who researches and writes about the benefits of the gluten-free, paleo-ish and keto diets and is the award-winning recipe developer and owner of Paleomazing.com. Tina has released award-winning eBooks, multi-award-winning children's titles, and thousands of articles. Tina also founded GlutenFreeHelp.info, voted #2 .info site in the world in 2009 out of over 6.7 million other .info sites, which she turned over to her celiac daughter, Miranda Jade, in 2012. Turbin is the renowned author of the multi-award-winning children's book, audiobook, DVD and apps under the titles, Danny the Dragon Meets Jimmy and Danny Dreams.
http://www.PaleOmazing.com
Follow Tina on Facebook, Twitter, Pinterest, LinkedIn, Google+ and Instagram! Check out her videos on YouTube!