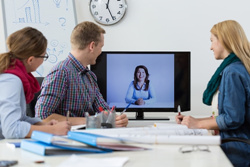 Aragon offers free service to small businesses to help sustain operations
PALO ALTO, Calif. (PRWEB) March 23, 2020
Many businesses are feeling the effects of the COVID-19 outbreak, but small businesses often do not have the same resources as large enterprises to face the unique challenges brought on by the pandemic. Aragon Research is pleased to offer our services for free to any small business or local government agency (city, county) that needs advice during this time to support their people and strengthen their business operations.
Our free services include:

Business model and strategy evaluation
Understanding business and technology trends
Understanding how to reduce the risks associated with possible roadblocks
Advice on technologies and services for your business
Guidance on business governance and metrics
Advice on how to support your employees remotely
To schedule your free 30 minute phone call with Aragon analysts, you are encouraged to fill out our inquiry form. Organizations can also access additional resources to assist them during the COVID-19 outbreak by visiting 'Managing the Coronavirus in the Workplace'.
About Aragon Research
Aragon Research delivers high-impact visual research, consulting, and advisory services to provide enterprises the insight they need to make better technology and strategy decisions. Aragon Research serves business and IT leaders and has a proven team of veteran analysts. For more information, visit https://www.aragonresearch.com/.