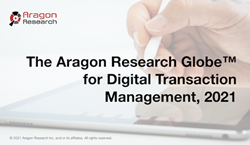 The organizations that have deployed DTM continue to outperform their competitors.
PALO ALTO, Calif. (PRWEB) January 21, 2021
Aragon Research identifies 21 major providers in its Globe for Digital Transaction Management (DTM), 2021, published today.
COVID-19 produced significant pressure on enterprises to accelerate their digital transformation plans, as paper can no longer be relied upon as a safe medium for transactions. On top of this, the shift towards a fully digital enterprise is underway, and has accelerated during the widespread move to remote work. Together, these factors have made digital transaction management a must-have for enterprises.
DTM was picking up before the pandemic, but now, the sense of urgency to migrate away from paper is even more evident. Enterprises that have eliminated paper have seen surges in productivity and revenue. Still, as we enter 2021, Aragon estimates that less than 45% of all document processes are fully digital.
"The organizations that have deployed DTM continue to outperform their competitors," says Aragon CEO Jim Lundy. "Offering a simplified customer journey and employee transactions is a must, and DTM contributes to that goal."
Digital transaction management platform offerings range from basic to advanced DTM. The key things to look for in each include:
Basic DTM offering:

Core eSignature capabilities
Ability to assemble a document or a series of documents for signature
Document routing and workflow automation
Basic and advanced analytics based on organizational level
Integration with leading content management and other line of business (LOB) platforms
and systems

Mobile apps (remote, in-person and offline signing, managing)
Advanced DTM offering:
Asset management, including transaction management, and trust services
Workflow and content automation (WCA)
Clickwrap—this is an emerging subset of DTM, and Aragon expects it to grow significantly
over the next five years.
The providers evaluated in this Globe report include: Adobe, airSlate, AssureSign, Citrix, Conga, DocuSign, eOriginal, HelloSign, InfoCert, Mitratech, Namirial, Nintex, OneSpan, PactSafe, PandaDoc, Sertifi, SignEasy, Smart Communications, Topaz, Wacom, and ZorroSign.
Enterprises should use this report to evaluate DTM providers. Aragon clients can access the Aragon Research Globe for Digital Transaction Management, 2021, in the AIN client community or on aragonresearch.com.
About Aragon Research
Aragon Research delivers high-impact visual research, consulting, and advisory services to provide enterprises the insight they need to make better technology and strategy decisions. Aragon Research serves business and IT leaders and has a proven team of veteran analysts. For more information, visit https://www.aragonresearch.com/.