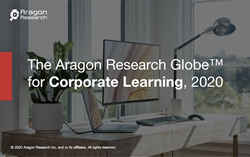 PALO ALTO, Calif. (PRWEB) July 23, 2020
Aragon Research identifies eighteen major providers in its ninth edition of the Aragon Research Globe for Corporate Learning, 2020, published today. The report states that enterprises need to modernize their approach to learning, leverage off-the-shelf training content, and develop new learning paths for both their employees and customers.
In the current and post-pandemic world of remote work, skills development is still vital and key to the success of your business. Because so many people are working remotely globally, this is reducing the ability to do training via the physical classroom, therefore increasing the demand for digital learning.
Aragon sees five critical learning journeys that need to be addressed:

Onboarding
Basic Professional Skills
Job-Specific Learning Paths
On-the-Job Training
Just-in-Time Learning
"Today, many providers are refreshing their learning platforms so that they offer users a better learning experience," says Aragon Research CEO Jim Lundy. "These learning experience platforms are really portals that are designed to deliver the right content to the user at the right time."
The providers evaluated in this Globe report include: Axonify, BenchPrep, Blackboard, Cegid, Cornerstone OnDemand, CrossKnowledge, D2L, Degreed, Docebo, Gyrus Systems, Inkling, Meridian Knowledge Solutions, NovoEd, Oracle, PeopleFluent, Qstream, SAP SuccessFactors, and Skillsoft/SumTotal.
The Aragon Research Globe ™ for Corporate Learning, 2020 will help clients differentiate the many vendors that offer tools to let enterprises manage and deliver all forms of learning. Aragon clients can access the Aragon Research Globe for Corporate Learning, 2020, in the AIN client community or on aragonresearch.com.
About Aragon Research
Aragon Research delivers high-impact visual research, consulting, and advisory services to provide enterprises the insight they need to make better technology and strategy decisions. Aragon Research serves business and IT leaders and has a proven team of veteran analysts. For more information, visit https://www.aragonresearch.com/.
https://aragonresearch.com/?page_id=46632&preview=true