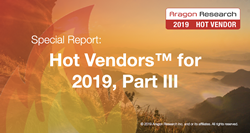 For most sales teams, the lack of performance is attributable to a lack of skills or a lack of practice of those skills. Sales coaching and learning is the way to fix that.
PALO ALTO, Calif. (PRWEB) July 25, 2019
In its latest Hot Vendors report, Aragon Research Inc. identifies emerging vendors in five markets: conversational AI, sales coaching and learning, meeting automation platforms, digital transaction management, and revenue intelligence.
Conversational AI is becoming increasingly popular in enterprise applications, from contact centers to maintenance and repair operations. Its capabilities allow for improved customer experiences and, therefore, better customer relationships.
The four key trends driving the expansion of conversational AI in the workplace include:
-AI technologies maturing
-Natural language interfaces changing expectations
-Messages becoming used as a medium for communication
-Self-service becoming accepted
Aragon Research identifies four Hot Vendors in the conversational AI market that stand out for 2019.
Sales coaching and learning developed from the need for more consistent sales outcomes. Sales leaders are making great efforts to train and develop their sales teams to improve performance.
"For most sales teams, the lack of performance is attributable to a lack of skills or a lack of practice of those skills. Sales coaching and learning is the way to fix that," said Jim Lundy, CEO of Aragon Research.
Aragon identifies three Hot Vendors in sales coaching and learning for 2019 that implement cutting-edge sales coaching and learning technologies.
Meeting automation platforms (MAPs) are an essential application that allow enterprises to automate the management of quantifiable activities associated with pre-meeting planning and logistics, in-meeting monitoring, and post-meeting analysis and follow-up.
Aragon identifies the benefits of MAPs, which include:
-Increased volume of B2B meetings by up to 200%
-Increased customer satisfaction
-Overall improvement of quality and efficiency
MAPs will help enterprises reduce human error with a seamless integration of existing tools and updated workflows, and Aragon identifies four Hot Vendors in MAPs for 2019.
Digital transaction management (DTM) is a business application that goes beyond content and document management to include eSignatures, authentication and nonrepudiation, document transfer and certification, secure archiving, records management, and more.
"Since the DTM market is still maturing, the focus is expanding beyond the signature," said Jim Lundy. "Workflow and content automation, and the rise of asset management, are all driving increased emphasis on the document lifecycle of content that challenges a transaction."
Finally, in its fifth Hot Vendor report in Part III for 2019, Aragon identifies four new Hot Vendors in revenue intelligence. Revenue intelligence is an emerging technology category in the sales enablement space that uses AI to provide the right level of insights so that data that is tied to sales opportunities and forecasts is up to date. Aragon sees revenue intelligence as a significant leap in the race to the intelligent enterprise.
"Sales teams that need to produce faster and more consistent results need to look into what revenue intelligence can do for them," said Samra Anees, Associate Analyst at Aragon Research.
Aragon clients can learn more about these providers by reading the Special Report: Aragon Research Hot Vendors for 2019 Part III.
About Aragon Research
Aragon Research delivers high-impact visual research, consulting, and advisory services to provide enterprises the insight they need to make better technology and strategy decisions. Aragon Research serves business and IT leaders and has a proven team of veteran analysts. For more information, visit https://www.aragonresearch.com.