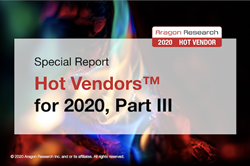 PALO ALTO, Calif. (PRWEB) July 21, 2020
Each year, Aragon Research selects Hot Vendors across multiple markets that are noteworthy, visionary, and innovative. They may have a new technology that expands capabilities, a new strategy that opens up markets, or just a new way of doing business that makes them worth evaluating. In its latest Hot Vendors report, Aragon Research Inc. identifies emerging vendors in two markets: artificial intelligence and security and privacy.
Hot Vendors in Artificial Intelligence
Artificial intelligence (AI) enabled applications leverage enterprise data and third-party data to understand patterns that drive modified approaches, ultimately leading to faster business outcomes. AI-enabled applications are being rapidly adopted in new industries and for new use cases, and have a clear impact on enterprises that have already deployed them.
"With the global pandemic disrupting the basic structure of enterprises worldwide, there will be new challenges and opportunities for AI providers to demonstrate the value of their services," says CEO of Aragon Research, Jim Lundy.
Aragon Research identifies four Hot Vendors in the AI market for 2020: Airin, Cerebri AI, Sisu, and WekaIO.
Hot Vendors in Security and Privacy
Cyberwar remains an imminent threat to enterprises and their associates. The sophisticated manner in which these infiltrations occur means that a new class of privacy and security protection is needed.
Legacy antivirus software suffers from the need to perform routine checks that can damage productivity and place strain on enterprise computer systems, especially at scale. New platforms are emerging that replace these methods with streamlined approaches driven by automation, AI, and cryptographic innovation.
Aragon Research identifies four Hot Vendors in the security and privacy market for 2020: Attivo Networks, BlackFog, SentinelOne, and Tozny.
Aragon clients can learn more about these providers by reading the Special Report: Aragon Research Hot Vendors for 2020 Part III.
About Aragon Research
Aragon Research delivers high-impact visual research, consulting, and advisory services to provide enterprises the insight they need to make better technology and strategy decisions. Aragon Research serves business and IT leaders and has a proven team of veteran analysts. For more information, visit https://www.aragonresearch.com.