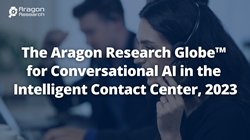 Today's Conversational AI technologies are enabling Intelligent Contact Center providers to offer self-service virtual agents capable of independently solving customer issues in a true omni-channel fashion, just what today's users are looking for. - Craig Kennedy, Sr. Director of Research
PALO ALTO, Calif. (PRWEB) January 17, 2023
On Tuesday, January 17, 2023, Aragon Research released its first Globe™ for Conversational AI in the Intelligent Contact Center (ICC).
The Aragon Research Globe™ for Conversational AI in the Intelligent Contact Center (ICC), 2023 covers 14 major providers in this market and reports specifically on their conversational AI offerings as well as some overall trends Aragon Research sees in 2023 and beyond. This Globe focuses on the set of companies that are either major established players in this space or companies that are demonstrating innovation in this market.
The 14 providers evaluated are:
Avaya, Balto, Cisco, Convoso, Cresta, Dialpad, Five9, Genesys, NICE CXone, RingCentral, ServiceNow, Talkdesk, Vonage, and 8x8.
Conversational AI technologies are advancing rapidly, and organizations need to stay aware of the latest capabilities available from providers.
The right Conversational AI technology can be a powerful tool. When evaluating conversational AI providers, Aragon Research recommends enterprises look forward to where they want to be in the next several years and select the provider with the features that will help them get there.
Premium conversational AI technologies within the intelligent contact center can provide significant commercial advantages with improvements to the user experience, as well as increases in productivity and the quality of live agent responses.
"Today's Conversational AI technologies are enabling Intelligent Contact Center providers to offer self-service virtual agents capable of independently solving customer issues in a true omni-channel fashion, just what today's users are looking for," said Craig Kennedy, Senior Director of Research at Aragon Research.
An increasing number of intelligent contact center providers are integrating conversational AI technology into their product offerings. This is being done through a combination of organic development, acquisitions, or partnering with conversational AI providers. There are also a number of technology providers that are offering unique solutions targeted for the ICC that enhance the user experience.
About Aragon Research
Aragon Research delivers high-impact visual research, consulting, and advisory services to provide enterprises the insight they need to make better technology and strategy decisions. Aragon Research serves business and IT leaders and has a proven team of veteran analysts. For more information, visit https://www.aragonresearch.com.