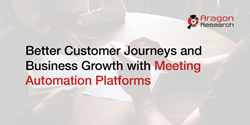 Until today, there's been a missed opportunity to manage and measure strategic B2B meetings.
PALO ALTO, Calif. (PRWEB) November 06, 2018
Aragon Research, a technology-focused research and advisory firm committed to providing thought-leading strategic research and trusted advisory services, introduced meeting automation platforms today in its research note Better Customer Journeys and Business Growth with Meeting Automation Platforms. Meeting automation platform (MAP) is a new category of business application that automates the management of quantifiable activities associated with pre-meeting planning and logistics, in-meeting monitoring, and post-meeting analysis and follow-up.
Today, digital businesses have already begun streamlining their manual processes and workflows, especially those that stand to have the biggest impact on business, such as contracts. B2B meetings represent another key opportunity for transformation, as traditional approaches, with time-intensive processes and lack of insights, are no longer sufficient in supporting the needs of the business.
Because of the transformative opportunity, Aragon expects 50 percent of large enterprises to have a MAP initiative underway or fully implemented by 2021. The tactical benefits are numerous, according to Aragon Research. MAPs will accelerate business growth by improving the efficiency and effectiveness of meeting processes.
"Until today, there's been a missed opportunity to manage and measure strategic B2B meetings," said Jim Lundy, CEO and Lead Analyst at Aragon Research. "With a meeting automation platform, businesses can take the manual work out of scheduling and planning. This not only optimizes the workforce but gives the added benefit of decreasing time to revenue."
Aragon predicts this market to grow significantly as MAP technologies evolve and mature, spurred on by key trends such as mobile communications, emerging analytics and AI technologies, and the rise of API-enabled enterprise applications. Learn more about meeting automation platforms by visiting aragonresearch.com.
About Aragon Research
Aragon Research delivers high-impact visual research, consulting, and advisory services to provide enterprises the insight they need to make better technology and strategy decisions. Aragon Research serves business and IT leaders and has a proven team of veteran analysts. For more information, visit https://www.aragonresearch.com/.